'Star Wars Battlefront' Trailer: Han Solo Still Isn't Taking Any Guff From Darth Vader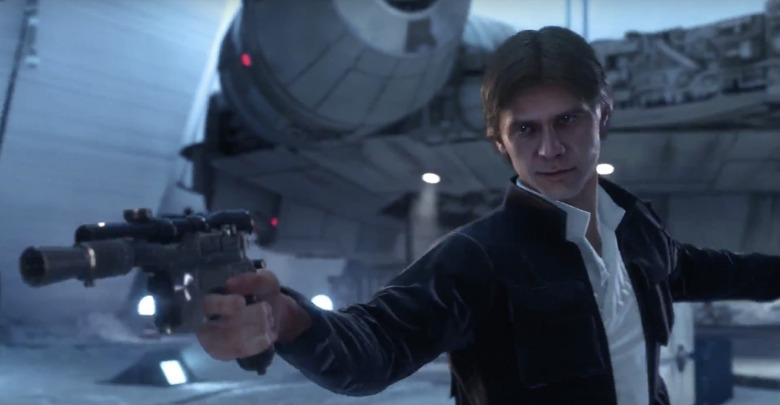 In just a few weeks, Electronic Arts will join the Star Wars hype train with the release of their first-person shooter video game Star Wars Battlefront. We've seen footage from the game previously, with new tidbits on gameplay surfacing over the past few months, but now the official launch trailer has arrived and it packs quite a punch.
The new Star Wars Battlefront trailer mixes gameplay footage with cinematics, showing off the huge battles that will take place between Rebel forces and the Empire on some very familiar planets and one previously unexplored territory. Watch!
Here's the new Star Wars Battlefront trailer from EA's Star Wars YouTube page:
The gameplay footage by itself is enough to get fans excited for the game (if the recent nostalgic commercial for the game didn't do the trick), but then things really amp up with the arrival of some of our favorite heroes and villains in the game. This is the first footage featuring recently announced heroes Han Solo, Princess Leia and Emperor Palpatine in the game, and their presence in video game form is pretty damn cool.
Darth Vader shows up to slice and dice some Rebel scum in their base on Hoth, but Han Solo isn't having any of that business as he uses his signature shoulder charge to plow through some Imperial troops and take some shots at Vader himself, just like he does on Cloud City in The Empire Strikes Back.
Meanwhile, Princess Leia, in full Hoth gear on Tatooine for some reason, faces off with Boba Fett, who makes a little crack about avoiding the Sarlaac pit this time. And we're given another first in the game as Luke Skywalker battles Emperor Palpatine, this time on the forest moon of Endor instead of the Death Star throne room.
The trailer transitions smoothly from one planet to another by way of explosions and ship flybys, and as one of the millions of people who partook in the short beta window earlier this month, I must say the game is a blast to play. It's repetitive multiplayer gameplay for sure, and sometimes the levels are so big that it can be a burden to trek all way way across them to get into the action, but it's just cool to be in the middle of massive Star Wars battles.
There's no new footage of the battle that will take place on Jakku as downloadable content, but surely we'll see plenty of that once the full game is available to play.