Paul Thomas Anderson Directed Joanna Newsom's New Music Video And It Is Beautiful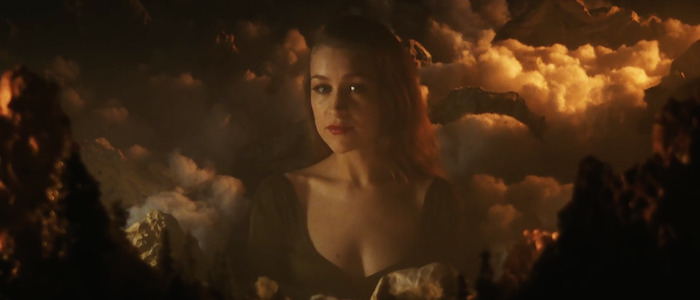 Music has always been a vital component in the films of Paul Thomas Anderson, and he has a habit of returning the favor to the musicians and artists who so frequently lend his films so much power. Avant-garde folk artist Joanna Newsom played Sortilège in Anderson's 2014 stoner-noir-comic-mystery Inherent Vice, and her offbeat voiceover narration gives the film much of its flavor. So of course the music video for Newsom's new single is directed by Anderson, and of course both the song and the video itself are totally lovely and mesmerizing affairs.
Watch Paul Thomas Anderson's "Divers" music video after the jump.
The title track off her newest album (which dropped just a few days ago), "Divers" showcases Newsom's one-of-a-kind vocals and poetic lyrics. It's the kind of track that gets your attention with its unique sound but keeps bringing you back to parse through every word. It rewards repeat listening. It's not the kind of song that's going to appeal to everyone, but hey, that just means the rest of us will just have to enjoy it a little more.
The style of the video itself is reminiscent of Anderson's later, post-Punch-Drunk Love work. His camera is always under perfect control – if it's not static, it is moving with such careful precision that you can barely recognize that it is moving at all. And while he surrounds Newsom with surreal, ethereal imagery that perfectly accompanies the melancholic nature of the song, the focus is always on her face and voice. She is frequently shot in close-up, so all we can do is look and listen. The video uses the song and the imagery to lull us into an unusual, hypnotic place. It's a welcome change of pace from many popular music videos, which lean hard on flash to get your attention. Like with There Will Be Blood, The Master, and Inherent Vice, Anderson has created something that demands your patience and attention. Like with those movies, it's worth the effort.
Compare this to Anderson's video for Aimee Mann's "Save Me," which finds the singer performing amongst the characters and locations of Magnolia. You can see Anderson's earlier style at work, but you can also see another example of him collaborating with an artist who was obviously his creative muse. Mann's music, after all, is a vital component of why Magnolia works.
If you want another film connection, Anderson directed the music video for Fiona Apple's cover of The Beatles' "Across the Universe," which was recorded for the Pleasantville soundtrack. Anderson chose to shoot that video in the style of the film, utilizing black and white cinematography with a single splash of color. However, the filmmaking is all him.
Anderson recently finished the documentary Junun, which chronicles Radiohead guitarist Jonny Greenwood, Israeli composer Shye Ben Tzur, and the Indian group The Rajasthan Express as they collaborate on an album. As you may know, Greenwood composed the scores for There Will Be Blood, The Master and Inherent Vice.
But c'mon. Let's face it. All of this pales next to Dirk Diggler covering "The Touch."