'Crying In A Sweater' Trailer: Kristen Wiig Goes For Oscar In New Indie Drama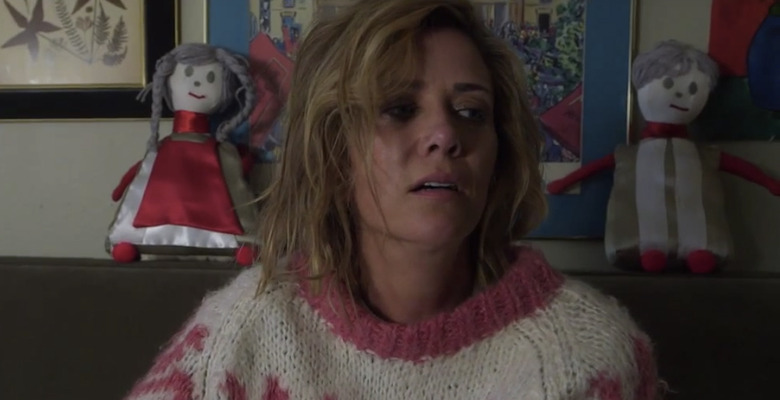 It's a staple of the fall movie season to see an actor, usually one known for comedies, step outside of their comfort zone and deliver a powerful dramatic performance, wowing audiences and critics alike. And that movie is finally throwing itself into the Oscar race as a last-minute entry.
The first trailer for a new indie drama called Crying in a Sweater has arrived, showing off a promising tour-de-force performance from Saturday Night Live veteran Kristen Wiig as a woman struggling through life's trials and tribulations.
Watch the Crying in a Sweater trailer after the jump!
Here's the debut of the trailer from Jimmy Kimmel Live! last night:
Life in sweaters is tough, and Wiig really brings some gravitas to this film from director Michael Bay, showing that he has a sensitive side outside of explosions and lingerie models. This will undoubtedly be a film to keep an eye on during awards season.
All right, hopefully by now you get that this is all one big joke. If it wasn't, the audience of Jimmy Kimmel Live would be pretty mean for laughing at such an honest, moving performance from Kristen Wiig. But the trailer does do a good job of setting up what could be the beginning of countless indie movies that make the rounds at Sundance, Cannes, Toronto, and other film festivals.
Even though Crying in a Sweater is a joke, Wiig actually has been delivering some interesting performances lately in indie films such as The Diary of a Teenage Girl, the peculiar Nasty Baby, and the lively but strange Welcome to Me (available on Netflix Instant right now). She's also had quite an interesting year on the more mainstream front, since she had a key role in The Martian and the Lifetime movie A Deadly Adoption with Will Ferrell. In addition, there's her delayed heist comedy Masterminds due out some point in 2015, but we don't know when.
Coming up next year, Wiig will be seen in the Ghostbusters reboot alongside Melissa McCarthy, Kate McKinnon, and Leslie Jones, as well as Ben Stiller's long-gestating Zoolander 2, not to mention lending her voice to the R-rated animated comedy Sausage Party from Seth Rogen and Evan Goldberg. And surely the actress will find some more real indie movies to star in, but if we see her crying in a sweater in any of them, it might be hard not to laugh.