'John Wick 2' Will See The Glorious Return Of Ian McShane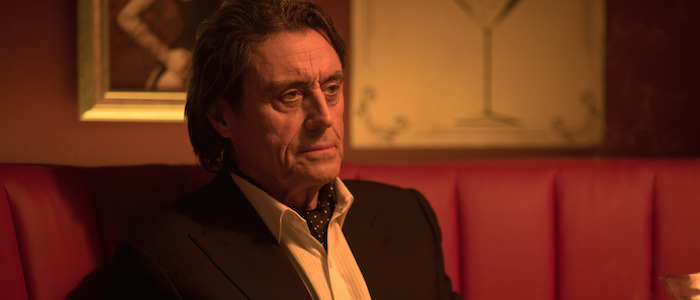 John Wick would have been an excellent action film if it took place in a world that was recognizable as our own, but it achieved instant classic status by taking a left turn into The Continental. Once Keanu Reeves' retired hitman decided that yeah, he was back, he dug up his weird assassins-only currency and checked into a room at that fancy hotel, an establishment that caters exclusively to professional murderers. Overseen by Ian McShane's mysterious Winston, The Continental houses all the resources a working hitman needs and operates with a strict "no violence on the premises" rule that sees violators punished with death. The film's landscape of killers is just as complex and rich as a fantasy or science fiction and it practically begs to be explored further.
Now, it has been officially revealed that McShane is returning for John Wick 2, which means that The Continental is returning, which means that Chad Stahelski's sequel will once again take us into the borderline-fantastical world of the first film. This is excellent news.
What we know about the latest return to the John Wick 2 cast can be found after the jump.
The news arrives from a report over at The Hollywood Reporter, who confirm that McShane will be reprising his role for John Wick's second headshot-athon. Details beyond that are scarce – whether McShane will once again play a minor but vital supporting role or if his part will get an upgrade is unknown. This news does arrive hot on the heels of Common being cast as the sequel's villain, so it wouldn't be surprising to see Winston forced to break his strict neutrality rules to lend Wick a helping hand once again. All we know for sure is that the new movie will not feature another round of puppy-vengeance. Something entirely new is going to set John Wick off this time around.
However, we would like confirmation that Lance Reddick is returning as the all-polite-smiles and all-quiet-menace hotel manager. His unnervingly warm hospitality helped set the tone for many of John Wick's best scenes and The Continental won't be the same without him.
Despite being wasted in lackluster blockbusters like Pirates of the Caribbean: On Stranger Tides, Hercules, and Jack the Giant Slayer, McShane is bouncing back into our good graces as of late. Hollywood doesn't seem to know what the do with him, which is just plain crazy because his work on Deadwood is the stuff of legend. Still, his acclaimed turn on the most recent season of Ray Donovan and his mere presence in the upcoming season of Game of Thrones look to bring him back into the spotlight in a big way. Giving him a second round with Winston certainly doesn't hurt him re-entering our good graces.
And because we don't have a proper ending to this post, here's a supercut of every Ian McShane scene in Hot Rod because he's an absolute treasure.