'Mr. Show' Reunites In This 'W/ Bob & David' Clip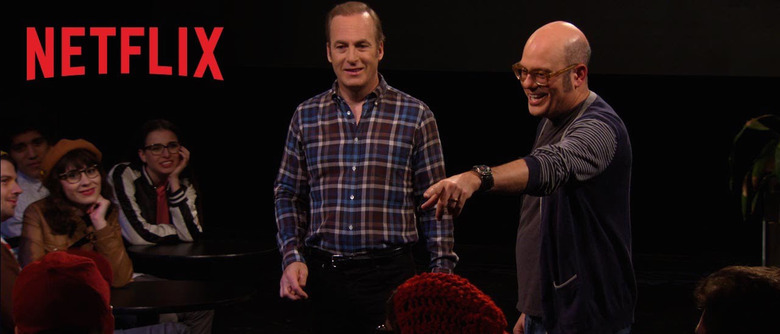 November 13th can't come fast enough. David Cross (Arrested Development) and Bob Odenkirk (Better Call Saul) reunite with Netflix's W/ Bob & David, a comedy sketch show that harkens back to arguably the duo's greatest work. Between 1995 to 1998 the two worked on Mr. Show with Bob and David, which has has not aged in the slightest since it debuted 20 years ago.
Watch the first W/ Bob & David clip after the jump.
This six-minute sketch, "Resolutions," is definitely a return to the tone of Mr. Show.
W/ Bob & David, like Mr. Show, will feature live stage segments and pre-taped shorts. Russ knows a few people who attended the live performances in Los Angeles, and they had positive things to say. Considering how much love there is for Mr & Show, expectations for the Netflix show are high. Odenkirk, speaking with Vanity Fair, acknowledges those expectations.
I mean, the comparisons will happen, I'm sure. In the comedic voice it will feel very much like Mr. Show—how could it not? We wrote it and are in it. If we wrote a narrative film it would feel like Mr. Show. But structurally it will be more carefree, and move faster, and not be afraid to have a tonal moment that isn't grounded in a joke. In fact, each episode will start with just such a moment—inspired by Breaking Bad—which we never even considered for Mr. Show. I've spent a lot of time thinking about what With Bob & David means, what kind of comedy it should suggest, and I haven't come up with much outside of silly stuff with a point of view somewhat connected to real shit.
Odenkirk and Cross haven't lost their touch since Mr. Show. The two went on to have fruitful careers, even if Odenkirk is in director's jail, and they're just as funny as they were at the start of their careers. Netflix's Wet Hot American Summer recaptured the tone and laughs of the movie, and if this clip is any indication of what's to come, W/ Bob & David may also meet that challenge.
Bob Odenkirk and David Cross are back for more inspired and absurd sketch comedy in W/ BOB & DAVID, the new Netflix original series, premiering Friday, November 13. In the series, Bob and David reunite – along with Paul F. Tompkins, Jill Talley, Jay Johnston, John Ennis, Brian Posehn and more – in four all-new 30-minute episodes.
W/ Bob & David premieres on November 13th.