'Suicide Squad' Star Jared Leto Says Playing The Joker Was "Like Giving Birth"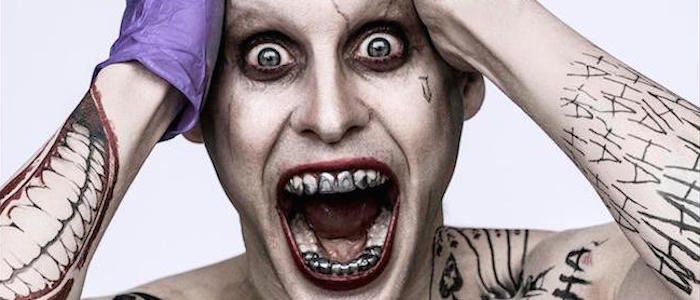 If you have actor/singer/Oscar winner Jared Leto's address, please send him cards, flowers, or chocolates, because, for God's sake, the man just gave birth. That's how he describes having played the Joker in director David Ayer's (Fury) Suicide Squad, which is about a pack of villains on a suicide mission.
After the jump, Jared Leto discusses the Joker.
A few short hours ago we ran new photos of Leto as the Joker. As of this moment, there are 185 comments and counting, which have been fairly divisive. These new details about Leto's take on the character, I imagine, will draw a similar reaction...
It's no secret Jared Leto is a method actor. He stayed in character during the entire shoot of Suicide Squad, which he also did on Dallas Buyers Club. Apparently, it took its "toll" on Leto. He told Empire Magazine (via CBM):
There was definitely a period of... detachment. I took a pretty deep dive. But this was a unique opportunity and I couldn't imagine doing it another way. It was fun, playing those psychological games. But at the same time it was very painful, like giving birth out of my prick hole.
Let that image of Jared Leto sink in.
To prepare for the role, the actor listened to 1920s gospel music and read literature associated with shamanism. To Leto's credit, at least he's trying something new with the character.
I always get the sense that The Joker may be much older than people think. It's something different. If you don't break rules, you're not going to strike new ground. I think I'll be cooling down for the rest of my life.
There's nothing safe about the choices they've made with the villain. Are they good choices? That remains to be seen, but at least they're taking the Joker in a new direction. David Ayer had this to say about the character and Leto's performance:
The Joker is the third rail of comic book movies. There's a power to that character, and by some freaking miracle, through the incredible things Jared has done and the photography and all the other millions of things that went into it, we've cooked up something transcendent. He's scary.
When we see Leto as the Joker next year, it's probably going to be a love-it-or-hate-it kind of performance, which is kind of an exciting prospect. Suicide Squad doesn't look like a superhero movie trying to please everybody, even though the Comic-Con trailer is pretty damn cool. Ayer and Leto aren't afraid of pissing off a few diehard Joker fans with their new take on the character, and maybe that take is as fresh and as new as they claim it is.
Suicide Squad is in theaters August 5, 2016.