Frank Marshall Says 'Indiana Jones' Reboot Wouldn't Recast A New Actor As Dr. Jones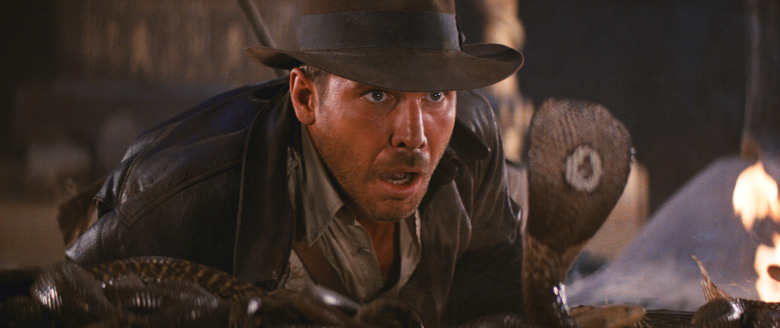 Ever since Disney bought Lucasfilm for $4 billion, the hype train surrounding the studio's plans for Star Wars has been nonstop, and last week it went into overdrive with the latest trailer for Star Wars: The Force Awakens. But don't forget that Lucasfilm has one other franchise that the House of Mouse will keep alive as well: Indiana Jones.
There have been rumblings that Chris Pratt was in the running to play the archaeologist and adventurer in a big screen reboot, which the actor has dismissed as rumor. More recently, director Steven Spielberg said he's likely going to direct Indiana Jones 5 with Harrison Ford back in the iconic role.
But we know that Ford can't play the character forever, so what's going to happen when Disney inevitably plans an Indiana Jones reboot? Who will play Indiana Jones? Well, producer Frank Marshall says the answer is no one.
Speaking with Total Film (via Den of Geek) recently about the future of Indiana Jones, Marshall said:
There are a lot of rumors. We haven't even sat down to talk about Indy yet... at some point we'll sit down. But there's a bunch of people who could probably take the baton. [But we are] not doing the Bond thing where we're going to call somebody else Indiana Jones... we have to figure this out.
At first this sounds pointless, mostly because there seems to be no reason to reboot the Indiana Jones series if you're not going to follow Indiana Jones. But considering how the Star Wars saga is creating new heroes to begin a new era in the sci-fi franchise, it only makes sense to do the same thing with Indy as well. The question is, how will this work?
Indiana Jones and the Kingdom of the Crystal Skull introduced us to Indy's son Mutt (Shia LaBeouf), and there were some hints that he could end up filling his father's shoes pretty well. But LaBeouf doesn't exactly have the best profile for such a valuable franchise right now, so I can't imagine that will be a viable plan for Disney.
There's a chance that the role of Mutt could be recast. After all, it's been seven years since Kingdom of the Crystal Skull was released. And by the time a new Indiana Jones gets off the ground, a new actor could easily play Indy's son just because of how much time has passed.
Otherwise, Indiana Jones would have to recruit or encounter a young new protege to pass the whip and fedora on to. But then the franchise couldn't really be called Indiana Jones anymore, could it? No matter what happens, I think Disney is going to have an uphill battle getting fans on board a new Indiana Jones without Harrison Ford. But again, it's inevitably going to happen, so we'll just have to wait and see how it proceeds.
Maybe Anna Kendrick could take over the role? Stay tuned for more.