'Suicide Squad': Get New Looks At Harley Quinn, Joker, Deadshot, And Enchantress [UPDATED]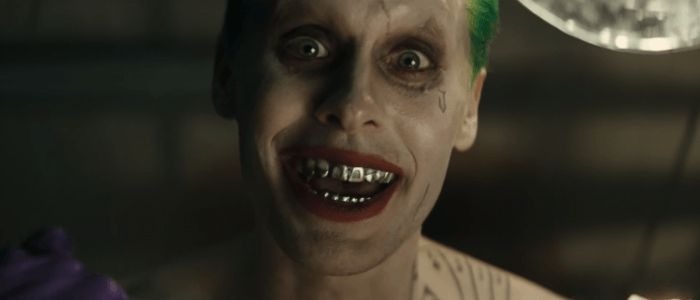 Update #1: High resolution versions of the Empire covers featuring the Joker and Enchantress have arrived online. You can find them below.
Update #2: Harley Quinn and Deadshot now have their own Empire covers as well. Again, click the jump to check 'em out!
Few things have proven as instantly controversial in the world of online fandom as Jared Leto's take on the Joker in the upcoming Suicide Squad movie. That first reveal is now the stuff of legend – you could hear the angry internet comments from orbit. Everyone seemed to chill out a bit when that Comic-Con trailer arrived online, giving us a brief look at the character in action. Still, even bringing up this retooled version of Batman's arch-nemesis is like tossing a bloody hunk of meat into a internet forum manned entirely by sharks. People like yelling about the Joker more than they like yelling about Batman himself. It's genuinely impressive.
Well, crack your knuckles, stretch your fingers, and prepare start typing in ALL CAPS because new photos of Leto as the Joker have arrived online. So get ready to hit the comments section of your choice and get to work. The internet is fueled by your rage, people.
Check out the new Joker images for yourself after the jump.
The new pics are technically from the new issue of Empire magazine, but scans have begun to crop up online courtesy of Coming Soon and Dark Horizons. Some of the images come straight from the trailer, but others offer fresh looks at the Joker, Margot Robbie's Harley Quinn, and Cara Delevingne's Enchantress. And yes, everyone is still tattooed and grungy. But hey, that's director David Ayer's thing – all of his characters always look like they're in desperate need of a shower.
Some of the photos look like they were torn out of a more traditional Batman story. The shots of Robbie as Dr. Harleen Quinzel having a sit-down with the Joker in a straightjacket is classic image and the exact kind of thing you'd expect to see in a movie that will explore how these two came together in the first place. And then there's the Empire cover, which really doubles down on the Joker's new "street" (for lack of a better word) look.
Sure, he looks nothing like any previous cinematic take on the character, but it's not like this kind of re-imagining is unprecedented. More than ever, this new Joker reminds us of how the Clown Prince of Crime was depicted in Brian Azzarello and Lee Bermejo's graphic novel Joker, which applied a nasty, realistic aesthetic to all of Gotham City's crooked denizens.
Like Batman himself, there are a hundred different ways to interpret the Joker and the rest of the Dark Knight's rogue's gallery. We can at least be thankful that Leto and company aren't even going for a Heath Ledger impression. For better or worse, this riff on the character is going to be its own thing altogether.
Suicide Squad will storm into theaters on August 5, 2016. Some of the new images can be found in the gallery below and you can check out more at the links above.
Update #1: Two new Empire covers showing the Enchantress and the Joker have arrived. Heroic Hollywood says that they are the first in a series and we will be seeing the rest of this villainous line-up soon enough.
Update #2: And here are Harley Quinn and Deadshot (Will Smith).