Aliens, Bigfoot, Apes, Wolves & More Honor FX Wizard Rick Baker In Tribute Art Show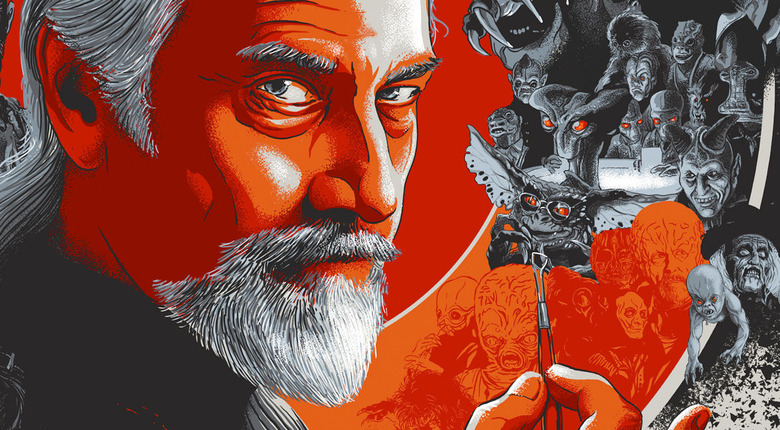 Cinephiles will nod their head in agreement when we say that Rick Baker is one of the most talented crew members to ever grace a film production. The rest of you may not know him by name, but I can say with absolute certainty that you've seen his work on the big screen, and a new tribute art show is paying honor to him by way of all the iconic creations he's brought to cinema.
Rick Baker is a make-up and creature effects designer and artist, responsible for creating countless aliens in Star Wars and Men in Black, delivering incredible prosthetic effects for the likes of Hellboy and Harry and the Hendersons, and crafting creatures such as Gremlins. And now Trailers from Hell and Hero Complex Gallery have teamed for a Rick Baker art show with some gorgeous work paying tribute to the effects genius.
Here's just some of the pieces from the Rick Baker art show called The Monster Maker (via io9):
Here's a whole bunch more pieces, now available for purchase at Hero Complex Gallery now:
As you can see there are pieces paying tribute to Baker's work in Gremlins, An American Werewolf in London, Harry and the Hendersons, The Howling, Star Wars, Michael Jackson's iconic Thriller music video and more. And these are just a small sample of the work that will be on display in The Monster Maker art show.
If you want to see even more of the pieces, you can head over to Hero Complex Gallery at 2020 South Robertson Blvd., Los Angeles, CA from now through November 1st. The tribute kicked off this past weekend with screenings of Ed Wood (for which Baker did make-up effects to turn Martin Landau into Bela Legosi) and Harry and the Hendersons, which is one strange double feature without knowing the films' connection.
My favorite piece out of this batch is the Star Wars-inspired poster, if only because it's like a real album cover for Figrin D'an and the Modal Nodes (one of the best movie bands), complete with Aurebesh text. More dedicated fans will have to translate what the poster actually says, but even without knowing that, I know it would look good next to my Max Rebo Band tour poster.
Again, you can get these pieces while supplies last at the Hero Complex Gallery shop.