George Clooney Again Lined Up To Direct 'Suburbicon' From Coen Brothers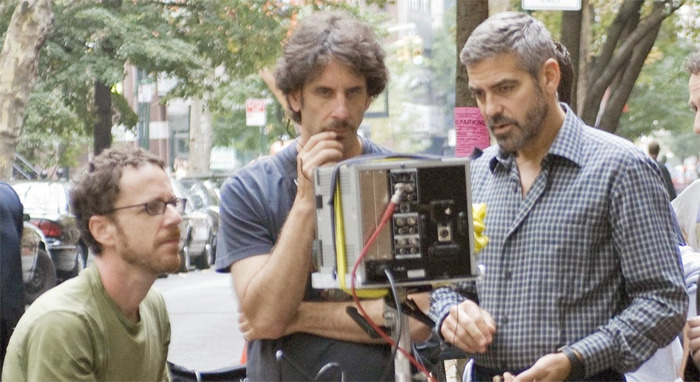 The directing duo of Joel and Ethan Coen has done some great work with American treasure George Clooney. They first worked together in 2000 with the spectacular O Brother Where Art Thou (one of my favorite Coen Brothers movies) and followed it up with Intolerable Cruelty in 2003 and Burn After Reading in 2008. However, it sounds like their next collaboration will shake things up a bit in more ways than one.
George Clooney is currently in talks to direct Suburbicon, a script from the Coen Brothers that has been gestating for over a decade. Find out more about the new George Clooney Coen Brothers collaboration below!
Deadline reports Clooney is again circling the director's chair for Suburbicon, which is now being set up at TriStar with Joel Silver producing. And this isn't the first time he's been linked to directing the project since Empire previously heard straight from the actor that he was looking to direct the film. And this was back when he was still shooting The Good German for Steven Soderbergh in 2005. So what's the project about?
Sadly, we don't have any story details, but Deadline describes the project as a noir drama set in the 1950s being in the same vein as Blood Simple, the film that essentially launched the Coen Brothers' career. However, when Clooney discussed the project back in 2005, he called it a comedy:
"I'm going to do a comedy with Joel and Ethan in around a year. I really like working with them and I like doing comedy with them. They offered me a part in Suburbicon a long time ago, and since then decided they have other projects they want to work on. So I called them up and said 'How about me taking a spin at it?' Because it's a really interesting, really funny, very dark comedy."
Since this is a dark comedy, it's easy to see why it could be considered a noir drama as well. After all, the Coen Brothers comedies have always had some darker humor in them, and aren't always easily classified as either a comedy or drama.
Clooney directing a Coen Brothers script sounds wonderful, especially following my disappointment with his last bout behind the camera for The Monuments Men. Clooney's directing career has warranted some mixed results with greatness such as Good Night and Good Luck (one of my favorite films of all time) and Confessions of a Dangerous Mind, but also misses such as Leatherheads. But with a Coen Brothers script as his guide, my hopes are high for Suburbicon.
Thankfully, we won't have to wait long for the next collaboration from Clooney and the Coens since Hail Caesar is coming on February 5th, 2016, and you can watch the trailer right here.