Jar Jar Binks' Reign Of Terror Continues By Ruining Final 'Star Wars: The Force Awakens' Trailer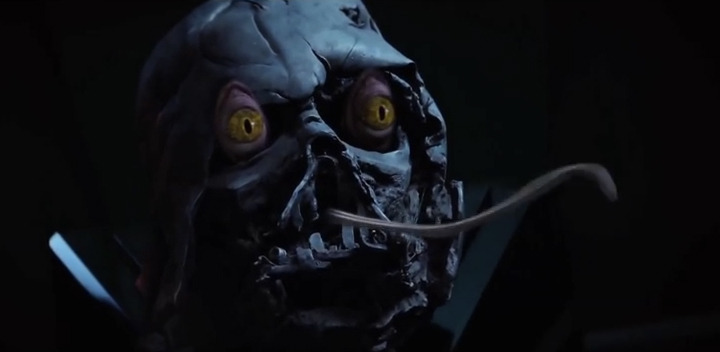 It's almost unanimous among fans that the worst thing the Star Wars prequels have contributed to the canon of the galaxy far, far away is the character of Jar Jar Binks. The Gungan companion is a dumb cartoon, and it seems George Lucas really wanted to fuel the fire by having him be the senator who makes the motion to give emergency powers to Chancellor Palpatine, thus bringing about the creation of the clone army that helped spawn the Galactic Empire.
And now he's back to ruin the final Star Wars: The Force Awakens trailer with a fanmade cut that inserts him all over the place, sometimes in a very impressive way. Watch the Jar Jar Binks The Force Awakens trailer below!
Here's Star Wars: The Binks Awakens from
:
Perhaps the most offensive part of this trailer is putting Binks inside the melted helmet of Darth Vader. Sure, he was one of the deadliest villains in the galaxy, but he doesn't deserve this kind of treatment at all.
Of course, this goes from being ribbing session for Jar Jar Binks to taking aim at the prequels in general by inserting shots of young Anakin Skywalker with his "Now this is podracing" line and the replacement of Hayden Christensen as the spirit of Anakin Skywalker in Return of the Jedi. And while we have a distaste for the prequels, they don't necessarily need to be dragged through the mud as vigorously as the creation of Jar Jar Binks.
However, the trailer for The Binks Awakens seems to deliver a jab at those of us who don't like the prequels as well, mostly by having George Lucas stand-in for Han Solo for the "They're real" line from the new trailer. It's basically a taunt reminding those with hate for the prequels that they're canon and those stories will always be part of the Star Wars universe whether we like it or not.
In case you missed it, here's the previous teaser ruined by Jar Jar Binks:
Thankfully, enough time has passed in the Star Wars universe that the prequels shouldn't really affect the future of the new Star Wars trilogy. Though they could have an impact on the Star Wars Story spin-offs, especially those that aim to tell origin stories. But we've got plenty of time before we have to worry about that, and I trust Lucasfilm to make it work with everything George Lucas did before.