'The Simpsons' Gets Another Trippy Couch Gag From 'Ren & Stimpy' Creator John Kricfalusi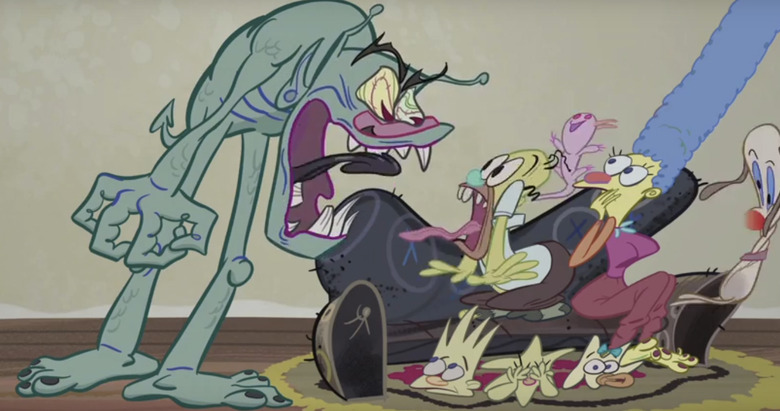 One of the staples of The Simpsons has always been the couch gag that happens at the end of the opening title sequence to the long-running animated show. In more recent years, the gags have gotten even more complex, with producers bringing in other trademark animators or paying tribute to other cartoons to liven things up a bit.
Recent couch gags have included the likes of Rick and Morty as well as the familiar gang from Futurama when the sci-fi series crossed over with its predecessor. And now Ren & Stimpy creator John Kricfalusi has put together a pretty trippy sequence that has some flares of classic Hanna-Barbera cartoons, but if they were in an acid nightmare.
Watch the new Simpsons Halloween couch gag from John Kricfalusi:
And this isn't the first time Kricfalusi had fun with The Simpsons since he also did a couch gag back in 2011:
Of course, the new couch gag is much more intricate since it's made for the staple Halloween themed Treehouse of Horror episode, which will be airing this Sunday at 8pm Eastern on Fox. As we said, there's some Hanna-Barbera accents here, as well as influences from the likes of How the Grinch Stole Christmas and The Nightmare Before Christmas.
And don't forget, if it's been awhile since you've seen the peculiar cartoon that is Ren & Stimpy, it's now part of The Splat on TeenNick, the new nostalgic block of programming bringing back hit Nickelodeon shows from the 90s. Maybe some other animators from the 90s Nicktoons crew can come by The Simpsons for a couch gag of their own. I wouldn't mind seeing Rocko's Modern Life creator Joe Murray take a crack at it, especially if The Bigheads meet The Simpsons.