Don't Worry, More Pepsi Perfect Coming After Botched Back To The Future Day Release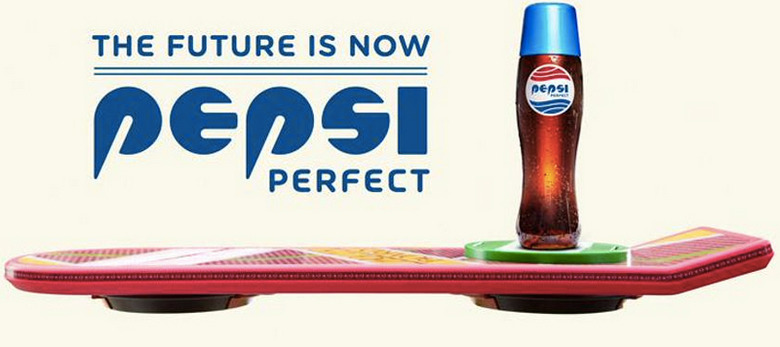 Yesterday, one of the cool releases that Back to the Future fans were desperate to get their hands on (in addition to Mondo's new vinyl set of the entire trilogy soundtrack and a bunch of other goodies) was a bottle of Pepsi Perfect. As announced earlier this month, Pepsi was releasing only 6,500 of the bottles for the entire continental United States. And some of those were given away at New York Comic-Con previously, so it was always going to be a mad rush to get them.
However, when the time came for fans to actually pick up a Pepsi perfect for $20.15 on Amazon (or $19.85 on Wal-Mart.com), it was even more difficult to get than initially believed, causing quite the outrage on social media. But since Pepsi is a merciful soda pop overlord, they're giving fans another chance to get one, and it sounds like it's going to be much easier this time to get a Back to the Future Pepsi Perfect.
Here's what Pepsi tweeted out after getting blasted all over the internet:
We've heard you, #BTTF fans. On 11/3 at 9:00 am EST, we'll take orders for another limited run of #PepsiPerfect on https://t.co/quKlP5lbSU.

— Pepsi (@pepsi) October 21, 2015
They also sent plenty of replies to fans who had complained to Pepsi on Twitter, giving them this information and reassuring them they would be able to get one. Due to Pepsi's extensive replies and wording in this tweet, it sounds like the company may just have open orders for Pepsi Perfect on the morning of November 3rd, and then they will never be sold again after that. But that's just speculation on my part. Considering how many fans want one, and how much Pepsi is selling them for, they're basically printing money, so it only benefits them to sell as many as possible.
Of course, that could be a big bummer for fans who quickly hit eBay yesterday and have been paying upwards of $350 for one of these bottles. Some are even priced at $500 on the web. I'm a big Back to the Future fan, but I would never pay that much for a plastic bottle of soda unless it was a genuine used prop from the movie. And even then I'd have a serious internal struggle.
As you can see, this time Pepsi Perfect will be sold on Pepsi's own site (if you go there, you'll find some pretty cool Pepsi perfect memorabilia on sale too), so they'll be in control of when it goes on sale. Thankfully they told us exactly what time it would be on sale. Part of the problem on Back to the Future Day was some were sold at 12 AM Eastern time, and some lucky fans were able to get one. Then they went on sale at a surprise time in the morning on October 21st and were gone in a flash, so that it appeared they never even really went on sale again. It was a disaster of a release, which is why fans were so upset.
We're not sure if Pepsi will have open orders on the morning of November 3rd, but we're keeping our fingers crossed. Our own Peter Sciretta already has one that came in a cool time circuit box and everything:
We're not sure if the ones ordered on Back to the Future Day or on November 3rd will come in that time circuit box, but fans will probably just be happy to have that overpriced soft drink in their hands. We're not sure why it's not being done on November 5th, the day Doc Brown invented time travel, but whatever.