The Force Awakens Bits: Movie Boycott, Scalping Tickets, Trailer Reactions & Breakdowns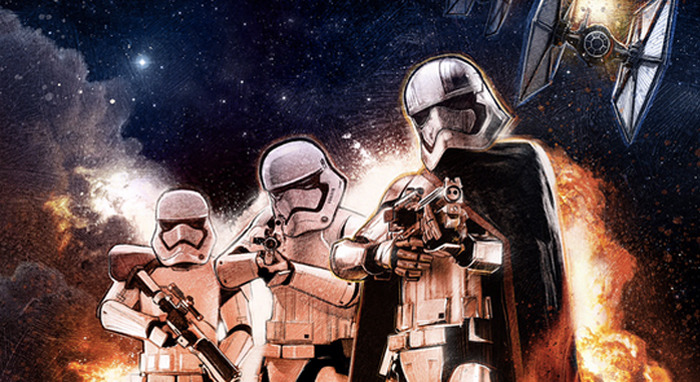 The Dark Side. Star Wars Bits. They're real. This edition of news from a galaxy far, far away includes.
J.J. Abrams' message to fans before The Force Awakens trailer hit
Tons of images from the final The Force Awakens trailer
Celebrity reactions to the Star Wars trailer
Some amusing fan Photoshop jobs of the final poster
Six things to notice in The Force Awakens final trailer
Site crashes and record-breaking ticket sales in the past 24 hours
Netflix negotiating to rights to stream The Force Awakens
Some people are boycotting The Force Awakens for a stupid reason
New artwork from Paul Shipper
Glimpse at new Star Wars make-up products from CoverGirl
Mondo's The Force Awakens glass being sold at Alamo Drafthouse locations
Red Letter Media's trailer reaction
Before the trailer hit last night, J.J. Abrams offered this message on the Bad Robot Twitter:
#TheForceAwakens #MNF pic.twitter.com/yw6XvlpJNe

— Bad Robot (@bad_robot) October 20, 2015
And in case you're anxious for a closer look at the trailer, but don't feel like pausing and screencapping every single frame, tons of shots from The Force Awakens trailer are all over the web. Here's just a handful for you to see here:
Get a good look at over 50 images over at i09 right now.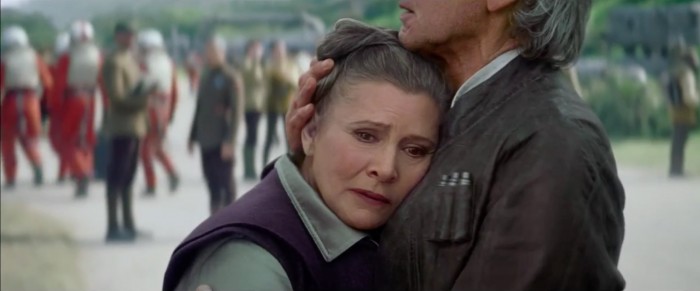 Once the trailer was unleashed, plenty of people chimed in on Twitter, and here's a range of celebrity reactions from the likes of Elizabeth Banks, Chris Hardwick and Kevin Smith:
I just geeked out HARD for that Star Wars teaser.

— Elizabeth Banks (@ElizabethBanks) October 20, 2015
Never watched any Star Wars movie & not going to start now. #MayTheForceNeverBeWithMe

— Piers Morgan (@piersmorgan) October 20, 2015
I'm only stating the obvious, but @starwars: The Force Awakens looks like it's going to be the greatest thing since the empire struck back.

— ʞɔiwbɿɒH ꙅiɿʜƆ (@hardwick) October 20, 2015
See more reactions and some jokes about the trailer release at The Wrap.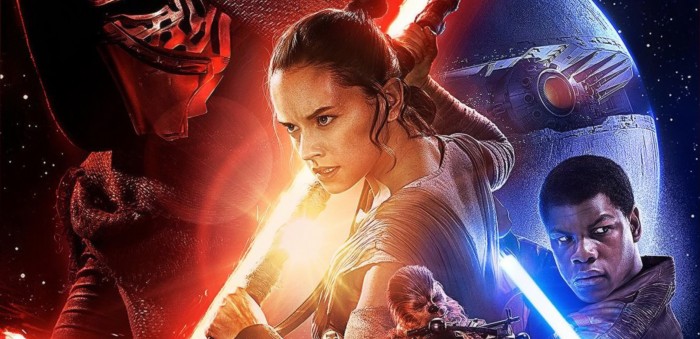 Fans haven't gotten creative with the new trailer just yet, but they did have fun with the poster:
As if the rating was ever in question, Star Wars: The Force Awakens has been confirmed to be rated PG-13. So anyone hoping for blood and f-bombs in this iteration of Star Wars will be very disappointed. [StarWarsUnderworld]
We've got our own The Force Awakens trailer analysis available already, but if you just don't have the time to read, the above video points out some things you might have missed in the final tease for Episode VII. [Mr. Sunday Movies]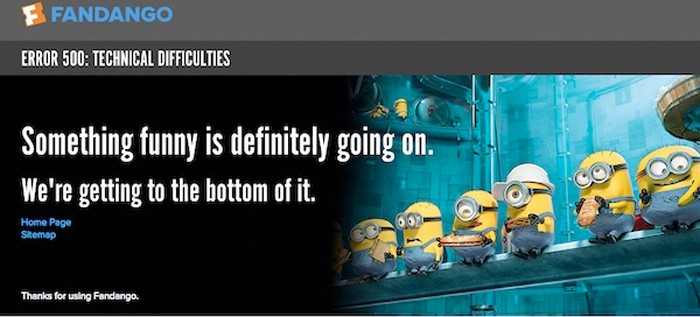 Yesterday tickets started going on sale for The Force Awakens, and plenty of websites just couldn't handle the demand. Fandango, IMAX and MovieTickets.com were all crashing throughout Monday evening. Over in the United Kingdom, Odeon, Picturehouse and CineWorld were crashing as well. How were they not prepared for this demand? [THR]
On a related, those who couldn't get tickets to the first showing at 7pm around the country may find themselves searching eBay for overpriced tickets to those showings. But we recommend not giving any money to those dirtbags. For example, one guy on eBay is trying to sell two tickets to an 8pm showing of the movie in Wilmington, Delaware for $10,000. As ScreenCrush, who spoke with the seller, notes:
To be clear, for $10,000, you and a friend could fly to Paris, where the movie opens one day earlier, spend the night at Hôtel Fouquet's Barrière, Paris' most expensive hotel, rent an entire theater at Cinéma Le Paris and watch The Force Awakens on December 16 at 10:00am, a full 39 hours before anyone in the United States... all for less than $10,000.
If you want to know more about the fan selling the tickets for that price, check out the full story here.
But the good news is that ticket sales still shattered advanced ticket sales records. According to Fandango (via Variety), The Force Awakens is now in the top spot for most tickets sold in a first day sale, beating The Hunger Games by selling eight times what the young adult sci-fi franchise starter did. MovieTickets.com hasn't released official numbers, but 95% of their sales over the past 24 hours are for Star Wars tickets. Those are some huge sales.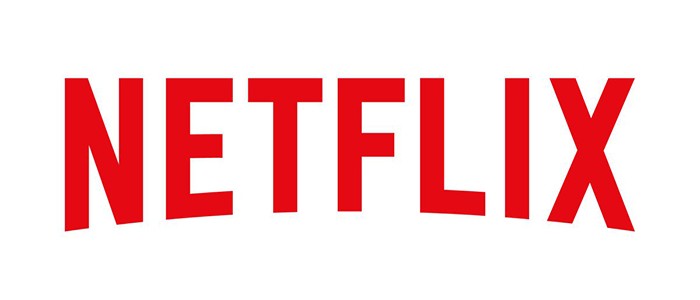 Star Wars: The Force Awakens hasn't even hit theaters yet, but Netflix is already negotiating with Disney to get the rights to stream the movie exclusively when the time comes. As of now the rights to The Force Awakens belong to Starz, as the last movie in their deal with Disney. Find out more about the situation at ScreenCrush.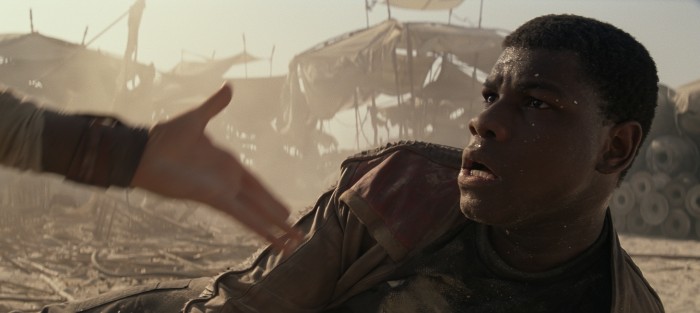 Not everyone is on board the hype train for The Force Awakens though. A couple of people who seem to be trolling the internet are putting the idea out there that the movie is anti-white, even going so far as to say it promotes white genocide. Basically they're "mad" because the cast is multicultural and not just a bunch of white people. Here's some stupid examples:
Yep, some people are still awful. Though it seems this is all an elaborate ploy to stir up trouble and controversy where there is none. [TheMarySue]
Hero Complex Gallery has some cool new The Force Awakens artwork for sale from Paul Shipper. They make me wonder why Lucasfilm didn't hire him to design the final poster. Check out the rest of the pieces:
These were sold at NYCC and are now available to buy online while supplies last.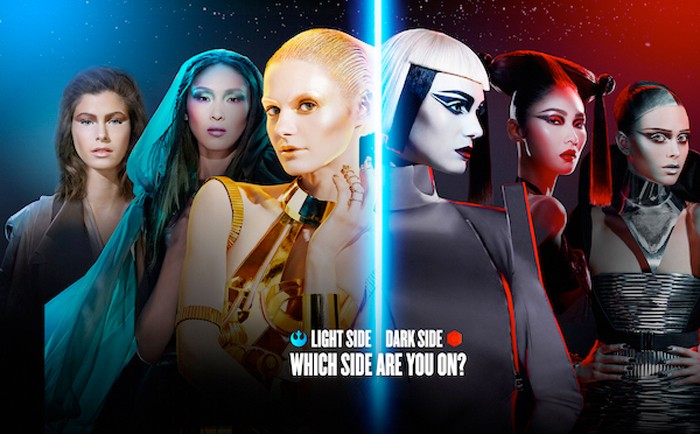 Check out some new Star Wars inspired make-up options from CoverGirl, and then head over here to find out how you can recreate these looks on yourself. I don't really understand Covergirl's angle here, since this just looks like make-up that would be worn at an outlandish fashion show or for a photoshoot, but whatever. [Fashionably Geek]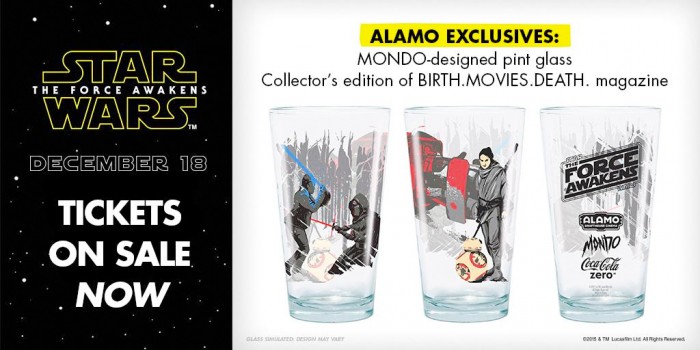 Above is the glass you'll be able to get your hands on if you're heading to the Alamo Drafthouse to see The Force Awakens. You'll have to buy it, since it's not being given away for free, but that's a pretty cool collectible. [Movies.com]
And finally, here's Red Letter Media's reaction to The Force Awakens trailer:
That's all for this rare edition of The Force Awakens Bits. Stay tuned for more soon!