'Star Wars: Battlefront' Will Spice Up Your Boring Life Says This New Trailer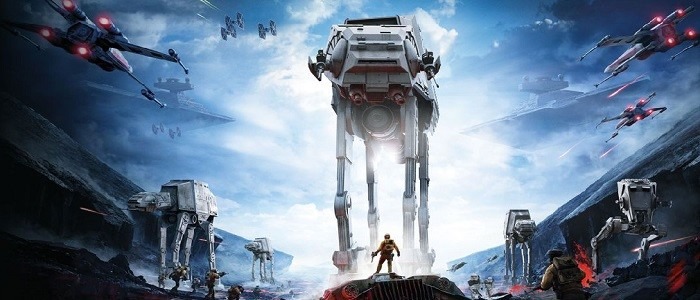 The message of this new Star Wars: Battlefront trailer seems to be "Your life sucks, but don't worry, a new Star Wars video game is on the way!", which is hilarious and strangely sweet in equal measure. Pulling hard enough at your heartstrings to trigger cardiac arrest, this trailer is less about selling a brand new video game and more about selling nostalgia... which will then convince you to go out and buy that brand new video game. To be fair, that game does look pretty, pretty cool.
Watch the new Star Wars: Battlefront trailer after the jump
This trailer features Don Draper-ian levels of emotional manipulation. It demands that you remember the time when your every waking moment was centered around Star Wars. Remember how you used to draw pictures and play with action figures and put together cool Halloween costumes and transform your bicycle into an X-Wing with cardboard? Weren't those the good 'ol days, you 30-something loser with a dead-end job whose only prospects involve indulging his Star Wars fandom? You're going to buy Star Wars: Battlefront, aren't you? Yeah you are.
Not pictured: Star Wars: Battlefront is a first-person shooter action game that lets you fight your way through the most famous and important battle scenes from all seven Star Wars movies. It may not send an actual X-Wing to your window to rescue you from the harsh realities of life, but it does look like a good way to kill a few hours every so often.
Cynicism aside, it is a nicely produced and sweet advertisement, even if it's selling the idea of Star Wars and not the $60 game that will hit retail shelves on November 17, 2015. The kids who grew up with Star Wars have disposable incomes now and advertising is reacting accordingly. After all, those massive lines at "Force Friday" weren't exclusively filled with kids.
In any case, Battlefront is going to let those kids-at-heart live out their ultimate fantasy of standing by while Luke Skywalker is ignominiously killed by a stray AT-AT.
This new trailer's timing couldn't be more appropriate, or better planned by Lucasfilm, Sony, game developer DICE and everyone else who certainly had a hand in this ad. It arrives amid a massive flurry of Star Wars activity: the final one-sheet for Star Wars: The Force Awakens arrived yesterday, ticket pre-sales begin today, and the final trailer will premiere later tonight. This may not be peak Star Wars fandom craziness (just wait until December), but it's certainly the most intense since 1999. The fans may be a little more cynical, a little tougher and a little more prepared to be kicked in the nuts by a movie series that they love with all of their heart, but morale is high. After all, everyone seemed to agree that the Battlefront beta was pretty good.
Just be warned! Your nostalgia is at its softest and most exposed right now. That Star Wars: Battlefront trailer may actually, you know, make you feel nice and good and pleasant and ready to spend half of a paycheck on Star Wars stuff.