Star Wars Marathons, Tickets Sales And Movie Theater Exclusives All Announced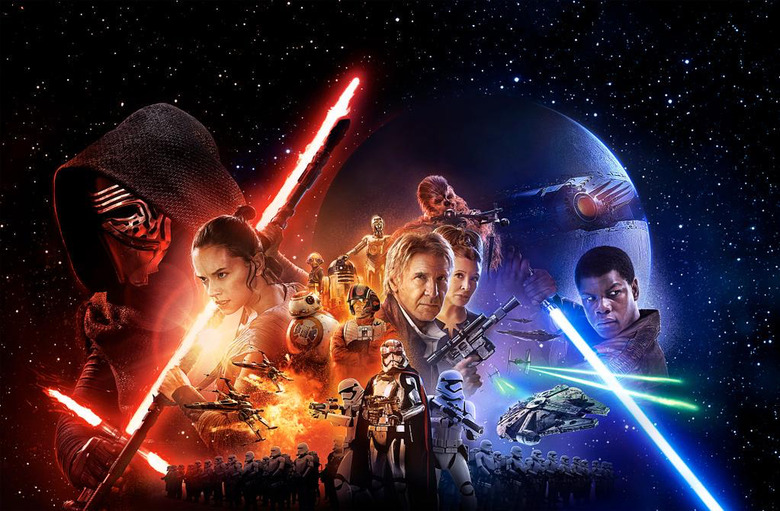 The official poster for Star Wars: The Force Awakens just hit this morning, and along with it comes confirmation of several things we had been hearing about last week.
Tickets are going on sale tomorrow immediately after the new trailer premieres. In addition, marathons at several theater chains have been confirmed along with the announcement of certain chains having collectible exclusives for fans to get their hands on.
Ticket Sales and Theater Chain Exclusives
First of all, tickets will be going on sale tomorrow after the debut of the trailer, so make sure you figure out where you want to see the movie. And part of figuring out where you want to see the movie may be determining which exclusive collectibles you want from certain theater chains that will be handing them out. Here's everything you need to know on that front from Star Wars.com:
Regal Cinemas
Star Wars Saturdays: Each Saturday, from December 19 to January 9, at Regal theatres the first 500 guests who experience Star Wars: The Force Awakens in IMAX will receive a collectable ticket featuring unique Star Wars: The Force Awakens art. New art will be revealed each week.
AMC Theatres
Star Wars Sundays: Each Sunday, from December 20 to January 10, guests who purchase a ticket to see Star Wars: The Force Awakens in IMAX 3D will receive an AMC-exclusive Star Wars print from artist Dan Mumford. A new poster will be revealed each week.
Also, join the celebration at Walt Disney World as AMC Theatres and Disney Parks celebrate the release of Star Wars: The Force Awakens. The Opening Night Event will take place on December 17, where participants will be among the first to see the new film at AMC Disney Springs 24 and then celebrate together at a private after-hours party at Disney's Hollywood Studios. Tickets are available online only at AMCtheatres.com/StarWarsWDW
Cinemark
Cinemark is giving fans the opportunity to receive a pair of exclusive RealD 3D Star Wars glasses. There are three ways guests can get these collectable glasses: By attending the Star Wars Marathon Event on December 17. By attending the first show of Star Wars: The Force Awakens Thursday 12/17 in Cinemark XD, or with the purchase of a Star Wars concession combo, coming in November.
Alamo Drafthouse
As part of the advanced ticketing promotion at participating Alamo Drafthouse locations, you can snag two exclusive, limited Star Wars: The Force Awakens collectible items: an officially licensed Mondo-designed pint glass and the first ever, double-sized collector's issue of their very own magazine, BIRTH. MOVIES. DEATH., celebrating 40 years of the Star Wars saga!
Fandango
On Fandango, Star Wars: The Force Awakens ticket buyers will be automatically entered into a sweepstakes for the chance to win a trip to the film's world premiere. Moviegoers who purchase tickets within the first 24 hours can increase their chances to win. Additionally, ten runners-up can win a collectible "Dark Side" or "Light Side" prize pack.
Star Wars Marathons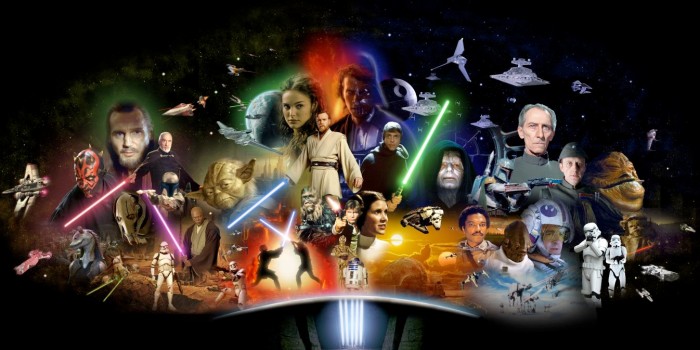 But the big news is the event Star Wars fans have been hoping for has been confirmed as well. There will be a Star Wars marathon event playing at select theaters on December 17th that will play all six of the previous Star Wars movies in 2D, starting with The Phantom Menace, and concluding with the opening of Star Wars: The Force Awakens in 3D. Attendees will get a lanyard with exclusive marathon art.
No time was announced, but previously we heard the marathon would start at 4am on December 17th and lead into the 7pm debut of The Force Awakens. More than likely the marathon event tickets will be on sale at the same time as The Force Awakens tickets, but we'll find out for sure tomorrow.
Here's all the theaters that will have Star Wars marathons around the United States and Canada:
REGAL CINEMAS TIKAHTNU 16
HARKINS SUPERSTITION SPRINGS 25
REGAL HACIENDA CROSSINGS 20
CENTURY 16 GREENBACK LANE
AMC WESTMINSTER PROMENADE 24
REGAL ATLANTIC STATION 18
CENTURY 12 EVANSTON/CINEARTS 6
AMC SHOWPLACE NAPERVILLE 16
AMC SHOWPLACE SCHEREVILLE 16
CEDAR RAPIDS GALAXY 16 CINE
CINETOPIA OVERLAND PARK 18
REGAL LOUISIANA BOARDWALK 14
REGAL CINEMAS MAJESTIC 20
SHOWCASE CINEMAS DE LUX REVERE
REGAL STONECREST AT PIPER GLEN 22
AMC LOEWS PORT CHESTER 14
REGAL BRIDGEPORT VILLAGE 18
UA KING OF PRUSSIA STADIUM 16
PROVIDENCE PLACE CINEMAS 16
ALAMO DRAFTHOUSE SOUTH LAMAR
EDWARDS HOUSTON MARQ'E 23
MEGAPLEX 20 AT THE DISTRICT
AMC LOEWS ALDERWOOD MALL 16
MAJESTIC CINEMA OF BROOKFIELD
SCOTIABANK THEATRE TORONTO
SCOTIABANK THEATRE VANCOUVER
CINEMA BANQUE SCOTIA MONTREAL
CINEPLEX ODEON SOUTH EDMONTON
SCOTIABANK THEATRE CHINOOK
LANDMARK CINEMAS 24 KANATA
***
That's all the confirmation and updates we have at the moment. Now we'll just have to patiently await the release of the new trailer tomorrow evening, and see what other Star Wars excitement is around the corner leading up to the release of The Force Awakens.
Will you partake in a Star Wars marathon?