Vin Diesel (Kinda) Shows Off His Silent Performance As Black Bolt In 'The Inhumans'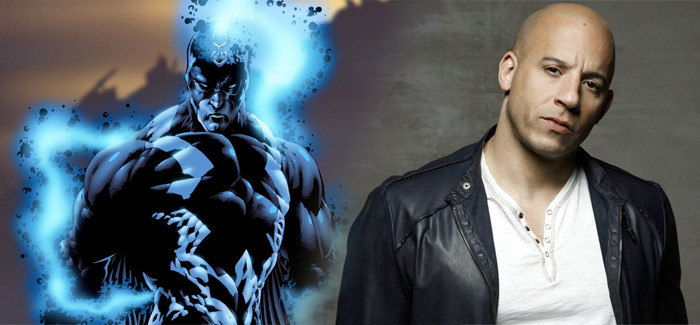 Just last weekend, Vin Diesel was back to teasing another future role in the Marvel cinematic universe, but it's the same one he's  been teasing for a couple years now. Fans have basically assumed, and rightly so, that Diesel will end up playing Black Bolt, the leader of The Inhumans. And now he's given us a brief taste of what it might be like to be the physical presence of Black Bolt, not to mention a quick mention of discussing the role with Kevin Feige.
Here's the interview from IGN where this all went down:
Since the "audition" featuring Vin Diesel as Black Bolt is silent, you'll have to watch the video for that. It doesn't really seem to be a serious take on the character though, since he opts for some pretty hokey sign language instead. Obviously he'll do a much better job in the actual movie, but he's mostly just having fun. And he did reiterate the idea of using his voice for Guardians of the Galaxy and body for The Inhumans:
"It would be... put it this way, when Kevin Feige started talking to me about... who would ever think? A voice for one thing and presence for another would be pretty genius – it'd be pretty genius. Whenever my father sends me an email, at the end of it he says 'stay human' – and it's cool and beautiful, but what is he really trying to say. Is he trying to say I've been affected by by Terrigen Mist? Does he want to cocoon me again?"
I don't know that I would use the word genius, but it's a cool way to use an actor for two roles without having to worry about confusing or angering fans. Plus, the fact that Diesel knows about Terrigen Mist means he's fairly well-versed in the comic book universe of The Inhumans. Zachary Levi is hoping that he'll get to have two roles in the Marvel cinematic universe one day as well, something Feige is supposedly fine with, but he doesn't have anything specific on the table like Diesel does.
The Inhumans was recently rumored to be in danger of getting axed completely, but the movie just got pushed back to July 12th, 2019 since Ant-Man and The Wasp shook up the future schedule a bit. There have been rumblings of tension between the film and television side of the Marvel cinematic universe, but all the Inhumans activity on Agents of SHIELD will jibe just fine with the film, mostly because there are some elements of the comic book mythology that are off limits to the TV show.
Anyway, this probably isn't the last time Diesel will be asked about The Inhumans, and he's bound to be keep teasing fans until he's actually in front of cameras playing Black Bolt. But until that happens, all we can do is wait and hope the movie doesn't get pushed back again.