Lynn Shelton Directing 'The Incredible Case Of The PI Moms'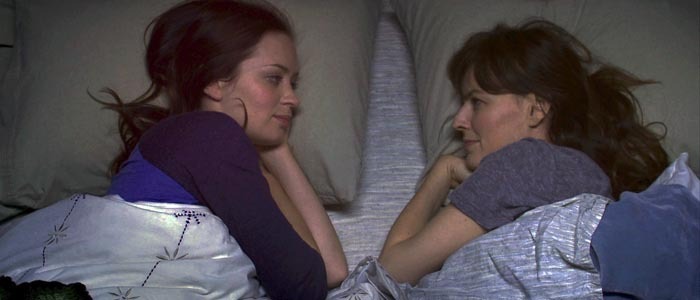 Indie darling Lynn Shelton just had her first film released, We Go Way Back, after it sat on the shelf for 10 years or so. Shelton has come a long way since her debut movie, doing fine work on television (The Mindy Project) and making polished, likable independent films (Your Sister's Sister, pictured above). The director of Humpday and Touchy Feely is now making a potentially commercial (and cool) sounding project. Read more about Lynn Shelton directing The Incredible Case of the PI Moms after the jump.
Written by Shelton and Megan Griffiths (Lucky Them), it's based on "The Incredible Case of the PI Moms," a This American Life story by Joshua Bearman, and Peter Crooks' book, "The Setup." Crooks, a journalist, unmasked the P.I. company the film is about.
The actual true-life story is stranger than fiction, and totally deserves a movie. A young mother gets a job as a private investigator, and the agency she works for is staffed by soccer moms. The man in charge, an ex-cop, Chris Butler, treats them like Charlie's Angels, and dreams of turning his company into a reality show. The women mostly work on run-of-the-mill cases — adulterous husbands and scams — but the company is, in reality, involved with drugs, dirty cops, and actresses.
We'll stop there so as to not spoil everything. But if you want to see more of this ludicrous story about "dames, deceits, and double-crosses," check out this ABC News report.
The Incredible Case of the PI Moms sounds a bit like an indie, female-driven Martin Scorsese movie, and could be good material for Shelton. Sexy soccer moms? An insane ex-cop as their boss? Drugs and dirty cops? This a story that should be told, and by Shelton. She always gets excellent performances, and she's been improving as a visual storyteller. Shelton's last film, Laggies, is her most visually appealing work, and it's a movie I love.
The director had this to say to Deadline regarding the project:
When I heard this episode of This American Life, I was completely blown away by the characters and stranger than fiction plot of this incredible true story. Yet all of these characters are real, driven by the same things that drive us all. As I listened, it was as if the movie was already playing in my head. It's that cinematic.
Ira Glass (Sleepwalk with Me, This American Life) and Alissa Shipp (This American Life) are producing the movie for Shelton. UTA is working on acquiring financing for the project, and with this concept and Shelton involved, fingers crossed the project moves forward fast.