Confirmed: New 'Force Awakens' Trailer On Monday, Official Poster On Sunday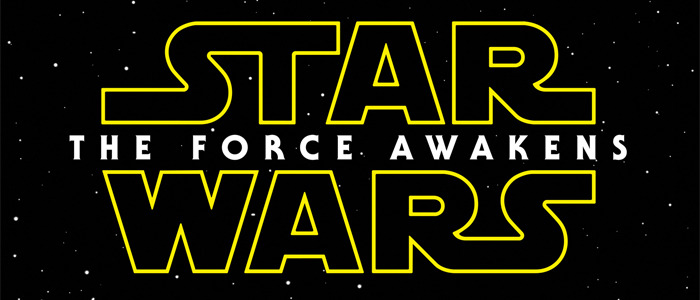 Just a couple days ago, a new rumor surfaced saying that tickets for Star Wars: The Force Awakens would go on sale next Monday, October 19th, and the beginning of tickets sales may also be marked with a new trailer for the sci-fi saga sequel. Details were murky as to exactly how and when this was all going down, but some more solid information on the new Force Awakens trailer release has surfaced along with tickets sales buzz and word on the official poster.
Our old buddy Germain Lussier at io9 did some digging and has heard from multiple sources that The Force Awakens hype machine will warm up with an official poster release on Sunday, October 18th. Reportedly the new poster will feature the official logo for the movie as well. If you're confused as to what that mean, don't forget that we've seen a variety of different official logos for the Star Wars movies.
Besides the iconic traditional Star Wars title that pops up before the opening scroll, Star Wars, The Empire Strikes Back and Return of the Jedi each had different kind of title treatments:
Meanwhile, all three of the Star Wars prequels had the same title treatment style:
Therefore, I wouldn't be surprised if the new trilogy has a new title treatment theme, or maybe goes the original trilogy route and gives each chapter in the trilogy its own unique logo. That's something we likely won't find out until the marketing begins for Star Wars: Episode VIII, since it's more than likely that the A Star Wars Story series of films will have their own title aesthetic.
But the poster is just the beginning as a new The Force Awakens trailer will reportedly arrive on October 19th sometime around 8pm Eastern time. There have been rumblings that it will appear on ESPN during Monday Night Football, which would be a huge audience for the new trailer, and it's no coincidence that ESPN is a Disney-owned network. If it airs on television first, you can be sure it will be online almost simultaneously, so we'll have that up as soon as it's available.
Finally, shortly after the release of the new trailer, tickets will go on sale around 8:30pm Eastern. They may not be available at all movie theaters (for example, I've had some trouble getting confirmation from a regional theater chain here in the Midwest), but major theater chains such as AMC Theatres, Cinemark, Regal and more will likely be prepared to start selling tickets.
Tickets available for purchase will be for shows beginning at 7pm on December 17th, and you'll be able to buy tickets for showtimes up through January 3rd. Clearly theaters are expecting a big rush and plenty of sold out shows, and that's why we've heard about theaters chains making sure they're prepared to sell tickets by today, even though they don't go on sale until Monday.
And for those wondering about Star Wars marathons, many theater chains will also be selling tickets for a seven-film marathon of all Star Wars movies that will begin at 4am on December 17th and run up through the 7pm screening of The Force Awakens.
So now is the time to figure out how and when you want to see Star Wars: The Force Awakens for the first time. Personally, I think I'm going to take advantage of the seven-film marathon, especially since I haven't seen the original trilogy on the big screen since they returned to theaters in Special Edition form in 1997.
As of now we don't know which version of the original trilogy will be screened, but it will likely be the versions that hit Blu-ray not too long ago. Prepare for your theater to boo at Hayden Christensen as the ghost of Anakin Skywalker in Return of the Jedi. In addition, it remains to be seen whether the 3D versions of the prequels will be screened for the marathon, or if they'll go with the regular 2D versions.
Anyway, stay tuned for plenty of new Star Wars information on the way soon.