'The Danish Girl' Trailer: Eddie Redmayne Is A Transgender Pioneer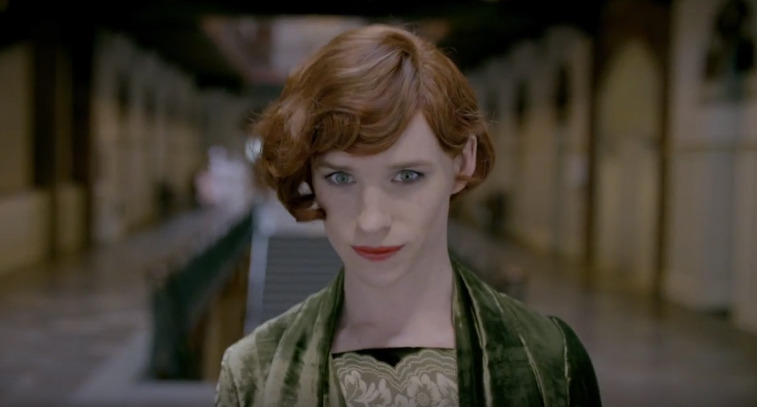 At a time when our culture and society is becoming far more accepting and understanding of the LGBT community, here comes the story of one of the first trans women to undergo sex reassignment surgery in The Danish Girl.
Eddie Redmayne takes the titular role as Lili Elbe, formerly Einar Wegener, a pioneer of the transgender community who had the surgery in 1930, a process that took over two years. Now a new The Danish Girl trailer shows Redmayne's incredible transformation into the real-life woman, showing that another Oscar could be in his future.
Redmayne is coming off winning an Oscar last year for his performance in The Theory of Everything, and the British actor has gone all out for this role as well. Variety says Redmayne dug into Elbe's book Man Into Woman, another transgender memoir called Conundrum by Jan Morris, and also met with six transgender women across several generations in order to absorb their experiences and feelings for the role. And it definitely shows.
The Danish Girl played at TIFF and Venice this year, and the praise for the lead performance is nearly unanimous. One review from Variety says:
For an actor, there can be few more enticing — or challenging — roles than this, in which the nature of identity, performance and transformation are all wrapped up in the very fabric of the character itself, and Redmayne gives the greatest performance of his career so far, infinitely more intimate — and far less technical — than the already stunning turn as Stephen Hawking that so recently won him the Oscar.
However, it sounds like the film might play it a little too safe in depicting Elbe's story. IndieWire says:
Beat by beat, however, "The Danish Girl" seems too mannered to convey Einar's conflicting desires. When he first puts on women's clothing to model for his wife, the situation is initially played for laughs and gets serious as Redmayne's face stiffens and he gazes hypnotically at his stockings. Alexandre Desplat's wondrous score — per usual — and cinematographer Danny Cohen's painterly images complement the evocative performances. But as "The Danish Girl" unfolds across many pretty surfaces, it rarely burrows beneath them.
At the very least, this looks like a showcase for astounding performances, with plenty of acclaim being thrown at quickly rising actress Alicia Vikander (Ex Machina) as well.
The Danish Girl, directed by Tom Hooper, hits U.S. theaters on November 27th with a cast that also includes Amber Heard, Matthias Schoenaerts, and Ben Whishaw.
The remarkable love story inspired by the lives of Lili Elbe and Gerda Wegener (portrayed by Academy Award winner Eddie Redmayne ["The Theory of Everything"] and Alicia Vikander ["Ex Machina"]), directed by Academy Award winner Tom Hooper ("The King's Speech," "Les Misérables"). Lili and Gerda's marriage and work evolve as they navigate Lili's groundbreaking journey as a transgender pioneer.