'Paranormal Activity: The Ghost Dimension' Trailer: Toby Has A New Friend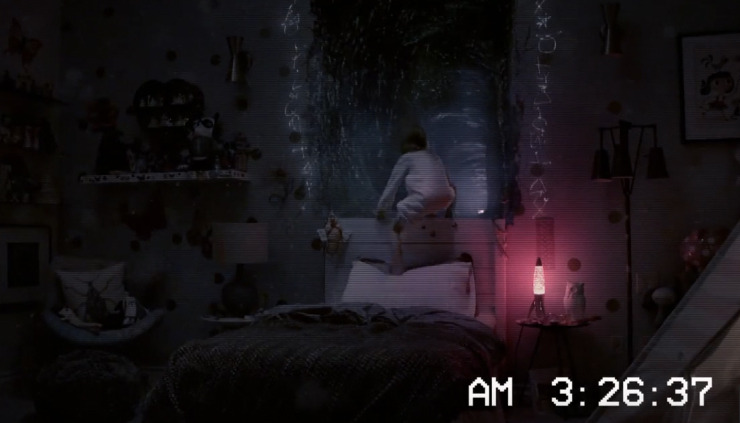 We've heard before that all the activity has led to this, but in the case of Paranormal Activity: The Ghost Dimension, it really seems to be true as this is meant to be the final chapter in the found footage horror series.
And as one last ditch effort to get people on board before the film arrives next week, one final Paranormal Activity The Ghost Dimension trailer has arrived, with some new footage from the sequel that will show us more of the spirits and demons than we've ever seen before, including the infamous Toby.
Here's the new Paranormal Activity: The Ghost Dimension trailer from Machinima:
This trailer shows some new footage of Toby's new friend, the daughter of a family who has moved into the house where young Katie and Kristi grew up. The whole conspiracy to have this particular family move into the house seems a little far-fetched, but then again, after the time traveling ending of Paranormal Activity: The Marked Ones, anything is possible.
However, the introduction of the camera that can see the spirits seems to cheapen the scares that made the Paranormal Activity franchise so chilling. A huge part of the tension and suspense came from not being able to see the demons but only hear them, at least until they slammed a door or threw stuff around. But now that we can see them through this spirit photography camera, it makes The Ghost Dimension feel like any other horror movie with computer generated ghosts.
And for those who are skeptical that this really will be the end, producer Jason Blum of the horror factory that is Blumhouse Productions said this when the first trailer came out:
It's coming to an end. This is it, the finale. We're saying it before the movie opens. We're not going to grind this horror franchise into the ground.his will keep Paranormal Activity as part of this culture and this particular time in a really fantastic way [...] All the questions that everyone has asked from the past Paranormal Activity films: What does Toby look like? What's the backstory to the families? These questions have been teased out. Now they will be answered.
But again, that doesn't mean we won't see the franchise come back in the future. Blum added, "At some point, might there be a reboot? You never know. We've never discussed it. (But) we made this movie like it's the end of this Paranormal line for sure."
Chris J. Murray, Brit Shaw and Olivia Taylor Dudley star in Paranormal Activity: The Ghost Dimension from first-time feature director Gregory Plotkin, the editor of all the previous Paranormal Activity sequels. It arrives on October 23rd.