'Kill Your Friends' Trailer: Nicholas Hoult Searches For The Next Killer Sound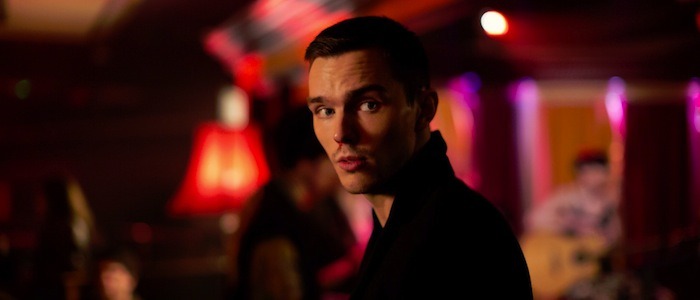 Nicholas Hoult has spent the past few years playing zombies and furry blue superheroes and sympathetic post-apocalyptic henchmen, so it's only natural that he'd eventually end up in a movie that doesn't require him to be slathered in prosthetics. That movie is Kill Your Friends, a darkly comedic thriller based on the novel by John Niven. A new trailer for the film has arrived and it presents a side of Hoult we haven't been getting recently. Namely, the obsessive, unhinged, murder-y side.
Watch the new Kill Your Friends trailer after the jump.
Adapted by Niven and directed by British television vet Owen Harris (whose credits include Misfits and Black Mirror), Kill Your Friends looks like it exists in the same vein as American Psycho. Here's a young and very interesting actor playing a charismatic psychopath who literally murders his way through the competition. The '90s flavor and the music industry setting differentiate it, but the trailer certainly makes it seem like the two movies would make a strong double feature. Christian Bale's Patrick Bateman and Hoult's Steven Stelfox would probably find some common ground (music and murder) if they found themselves in a room together.
Be warned: this is a trailer cut for U.K. audiences and doesn't have the MPAA seal of approval. If a little language, sex, and violence will ruin your day, don't hit play.
In addition to Hoult, the film also features a handful of familiar faces, including Rosanna Arquette, Ed Skrein, and James Corden. Place your bets on how many of them Hoult will murder. Feel free to watch the first trailer to gather more information for your wager.
Here's the official synopsis for the film:
When the road to success is littered with losers and even your closest colleagues are desperate for you to fail, what would you do to make it to the top?
London, 1997; the British Music Industry is on a winning streak. Britpop bands Blur, Oasis, The Verve rule the airwaves and Cool Britannia is in full swing.
27-year-old A&R man Steven Stelfox is slashing and burning his way through the music business, a world where 'no one knows anything' and where careers are made and broken by chance and the fickle tastes of the general public. Fuelled by greed, ambition and inhuman quantities of drugs, Stelfox lives the dream, as he searches for his next hit record.
But as the hits dry up and the industry begins to change, Stelfox takes the concept of "killer tunes" to a murderous new level in a desperate attempt to salvage his career.
Kill Your Friends is set to open in the United Kingdom on November 6, 2015. It does not have a North American release date, but it does have distribution through Well Go USA. You can expect a VOD release date sooner rather than later.