Sam Mendes Interviews Your Favorite Directors And They Respond With Gold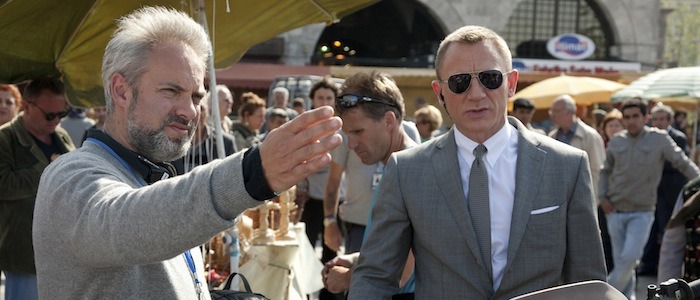 Director Sam Mendes is guest-editing next month's issue of Empire and he really delivered the goods. He could have easily just coasted on this gig and used his temporary position to just remind people that Spectre is coming out on November 6th, but instead, he rounded up a bunch of Hollywood's biggest and most respected directors and asked them simple questions about their filmmaking process. The answers are fascinating.
To check out some highlights from the Sam Mendes interviews, hit the jump.
Mendes assembled a killer line-up for this thing. Seriously, when is the last time Steven Spielberg, David Fincher, Ang Lee, Edgar Wright, Alfonso Cuarón, Joe Wright, Paul Greengrass, Joss Whedon, Rob Marshall, Christopher Nolan, Steven Soderbergh, Sofia Coppola, Susanne Bier, Alexander Payne, George Clooney, and Roger Michell were all interviewed for one article?
Although we've compiled some of our favorite responses from this Q&A below, you really owe it to yourself to head over to Empire and the read the whole thing. There are so many lovely, funny, and insightful responses at that link.
When asked whether or not they had ever stormed off the set in anger, most of the directors said no. However, Wright and Nolan had stories to share while Clooney explained the only reason why he would never walk off:
Edgar Wright: Almost. Once on Channel 4's Spaced I was having a tricky time shooting 15 scenes from seven different episodes with a new-that-day crew. When lunch was called I went for a walk and kept on walking. Then I called my producer Nira (Park) from a phone box and said, "I can't hack it anymore, you should get someone else for Monday." She talked me down from the ledge and I came back to work. So, I have never really flipped out on set, but I can be an incredible sulk.
Christopher Nolan: I once tried, but nobody seemed to notice, so I came back.
George Clooney: No. The reason is because eventually you have to walk back on, and that would be too humiliating.
On the subject of their most commonly used phrase on set, directors showcased everything from diplomacy to tough love to, well, David Fincher:
Alexander Payne: To the actors, "Great, now faster." To the crew members, "If this were easy, I would have hired a relative."
Rob Marshall: "Cut. That was great." I think it's always important to give immediate positive reinforcement.
David Fincher: "Shut the fuck up, please."
The directors were pretty split on the idea of having music on the set. Some, like Wright, see it as an important part of their process while others avoid it all costs. Spielberg explains how he used a famous film score to help a key scene come together:
Steven Spielberg: I've occasionally played music on set during silent scenes. For the last scenes between David and his mother in A.I., I played Morricone's Cinema Paradiso.
Joss Whedon: Never even occurred to me. Except during sweeping crane moves — sometimes I hum a bit of some score during playback to see if it's having the effect I want.
Joe Wright: Always music and all the time. I have my set rigged with the biggest sound system possible and have a mini jack for my iPod attached to my director's chair. I find playing music is a very direct way to communicate with actors and the crew, especially those crew members who are on the periphery of the set. I like dancing on set too, it's a good way to release tension.
Each director has his or her own specific rules for crew. Some are elaborate, some are very simple. The rules shared by Nolan, Cuarón and Soderberg somehow manage to directly correlate with exactly what we know about their on-set processes:
Christopher Nolan: No phones. No phones. No phones.
Alfonso Cuarón: Any good crew follows the unwritten rules of filmmaking (not talking while the camera is rolling, staying out of the actors' eye-line etc.) but every director has different procedures. I like to stage the scene in an empty set, with only Chivo (DP Emmanuel Lubezki) and my AD around, and only bring in the heads of departments when I'm happy with the staging.
Steven Soderbergh: No open-toed shoes.
When asked about the most takes they've ever done, most directors responded in the four-to-eight range. Spielberg used his answer as an opportunity to drop a Jaws anecdote:
Steven Spielberg: I did 50 takes on Robert Shaw assembling the Greener Gun on Jaws. The shark wasn't working, so I just kept shooting to make the production report look like we were accomplishing something and to keep cast and crew from going crazy from boredom. It was a strategic indulgence.
Rob Marshall: I try not to do more than seven or eight. It can become counterproductive.
Roger Michell: Like current Australian batsmen... Very rarely double figures.
Quizzed about how much coffee they drink each day, the directors almost unanimously showcased a preference for tea. Except for Soderbergh, who has a different vice:
Steven Spielberg: I never had a cup of coffee in my life, but I have at least a dozen cups of mint tea a day.
Joss Whedon: Only tea, 'til Age of Ultron, where I got hooked. Even then, one or two. With tea in-between. Tea I can swill all day.
Christopher Nolan: So many that I was forced to give it up and take up tea after Insomnia.
Steven Soderbergh: Never had a cup of coffee in my life. Dr Pepper is my caffeine delivery system of choice.
The directors shared their best day on set, with Wright getting poetic and Coppola humblebragging (and you can't blame her):
Joe Wright: Probably the day we shot the long Steadicam shot on the beach for Atonement. We spent the whole day preparing under heavy cloud but at sunset, just as we were ready to shoot, the sun dipped beneath the cloud and everything just came together, a huge team effort. We all, including the 1,000 extras from the local community of Redcar who had brought family and picnics, felt a sincere sense of ownership. I was beatific when I called, "Cut," that day.
Sofia Coppola: When Bill Murray is there.
Paul Greengrass: Probably Bloody Sunday. We had no money for extras and gambled on months of outreach to persuade the people of Derry to turn out and march for us on one single afternoon. And they did. In their tens of thousands. Seeing them march, their patience and their dignity and their commitment, I knew the movie would have a quality of truth.
Do the directors prefer real of CGI explosions? How about the best of both worlds:
Rob Marshall: Real, if possible – with CGI enhancement.
Joe Wright: Real explosion with CGI enhancement.
Ang Lee: Real, with occasional CGI enhancement to sex it up.
David Fincher: Real, contained and easily replicable (fast reset, propane?). On set – but with countless iterations of CG augmentation.
And finally, each director shared the best advice they ever received from another director:
Sofia Coppola: My dad told me, "Your movie's never as good as the dailies and never as bad as the rough cut."
Joss Whedon: James Cameron told me, "You can hire the 50 best people in the business, people you love and trust and respect. You all look at the monitor — you're gonna be the only one who sees what's wrong."
David Fincher: Scorsese once told me, "The things you do poorly are as much a part of your style as the things you do well..." Which was totally true, and oddly reassuring.
Kudos to Sam Mendes for putting this whole thing together. Okay, you win – we'll go see Spectre next month.