'Y: The Last Man' TV Series In Development At FX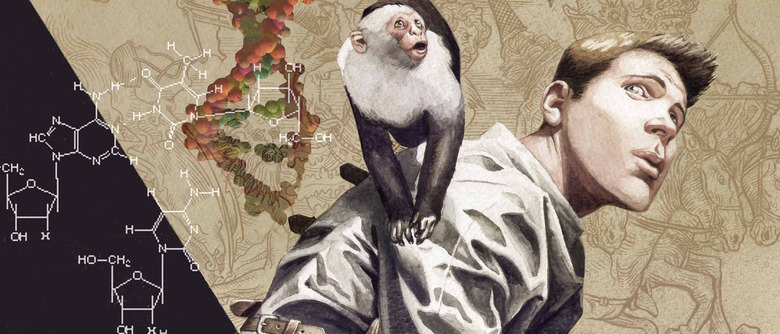 For several years now a Y: The Last Man movie has been in on-again, off-again development, and now the adaptation may have found new life in a different form. According to a new report, Brian K. Vaughan's dystopian sci-fi comic is now in development as a TV series at FX. Read all about the possible Y The Last Man TV series after the jump. 
THR broke news of the possible Y The Last Man TV series. FX and FX Productions are teaming with Color Force's Nina Jacobson and Brad Simpson, as well as Vaughan himself. Before you get too excited, keep in mind that the project is just in development. It hasn't gotten a pilot order, much less a series commitment. The search for a writer is underway, and no director has been chosen.
Written by Vaughan and illustrated by Pia Guerra, Y: The Last Man ran for 60 issues between 2002 and 2008. The story begins with the sudden and simultaneous death of every mammal with a Y chromosome. The only surviving males are a young man named Yorick Brown and his Capuchin monkey Ampersand. Under the protection of a government agent known as 355, Yorick sets out to learn what caused the mysterious plague, and why he and Ampersand alone were spared.
Y: The Last Man is one of the most acclaimed comic book series in recent memory, and was popular enough that Hollywood has been trying for years to turn it into a movie. New Line scooped up the film rights around 2006 and at one point had D.J. Caruso on board to direct from a script by Carl Ellsworth. Shia LaBeouf was circling the lead.
But that iteration fell apart, reportedly because Lionsgate wanted a single standalone film instead of a three-film series. (How times change — these days, it's hard to imagine a studio turning down the opportunity stretch a single story into multiple films.) Louis Leterrier flirted with the project after that, and then Dan Trachtenberg, but those versions never got off the ground either, and so in 2014 the rights reverted to Vaughan.
Y: The Last Man is such a long, complex story that it may actually work better as a show than a movie — assuming, that is, that FX lets it come to a natural conclusion instead of just trying to spin its wheels indefinitely. Vaughan has prior TV experience, as he was a writer and producer on Lost and the creator of CBS' Stephen King drama Under the Dome.