You May Be Able To Buy 'Star Wars: The Force Awakens' Tickets And Watch A New Trailer On October 19th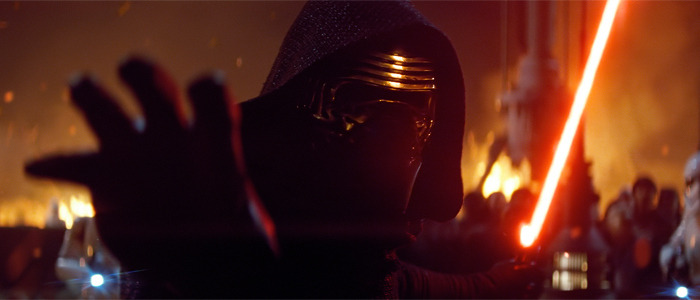 Update: Additional details have arrived, confirming that tickets will go on sale on Monday. The details are after the jump.
Fans have been eagerly anticipating the next Star Wars: The Force Awakens trailer since the moment they finished watching the previous trailer for Star Wars: The Force Awakens. Let's face it – we're a bunch of hopeless junkies, crawling around on our hands and knees, waiting for Lucasfilm to grant us our next fix.
And that next fix could be very soon, as a new report suggests that a new trailer may arrive on October 19 and will kick off ticket pre-sales. In other words, you'll be asked to go ahead and buy your ticket while you're still under the influence of new Star Wars footage. Classic drug dealer tactics, Lucasfilm.
For everything we know about the new Star Wars: The Force Awakens trailer and the ticket pre-sales, hit the jump.
The report comes from the very reliable folks over at ScreenCrush, who did some detective work to come to this conclusion. They cite anonymous sources, but there is some actual physical evidence to back all of this up. It seems that the Cinemark theater chain accidentally posted, and quickly pulled, an official announcement revealing that ticket sales for The Force Awakens would begin on October 19th. You can see the announcement right here, but you'll have to know Portuguese* if you want to read it.
Or you can just read this rough translation, which ScreenCrush so helpfully provides:
In the next Monday begins the pre-sale of Star Wars: The Force Awakens at #Cinemark! Run before the Stormtroopers end up with all the tickets.
While Disney has yet to confirm the date, this accidental announcement – especially when combined with TheForce.net forum reports of AMC theater managers prepping their staffs for the big pre-sale day – make this news feel rock-solid. Although the actual, physical evidence that you can see right now doesn't necessarily indicate that a new trailer is arriving on Monday, it does seem to confirm that tickets will go on sale... and what better day to launch a new preview?
If a new trailer is arriving in five days (and we believe this to be the case), it'll be our first glimpse of new Star Wars content since late August, when 15 seconds of new material premiered on Instagram. Remember John Boyega wielding a lightsaber? Of course you do.
For additional details, make sure you click on over to ScreenCrush. In the meantime, prepare yourself for the next quick hit of Star Wars before you overdose on December 18, 2015. J.J. Abrams has total control of whatever he'll be injecting into your eyeballs on that day.
Update: ScreenCrush now reports that major theater chains were given ticketing information for The Force Awakens today so their ticketing systems can be prepared. There will be two tickets available: one for the new movie by itself and another for a marathon of all seven movies that will begin at 4:00 p.m. on the 16th and conclude with a screening of The Force Awakens at 7:00 a.m. the next day. An official announcement should arrive as soon as tomorrow on StarWars.com
* An earlier version of this story said Spanish; we regret the error.