'Django Lives!' Finally Tracks Down A Screenwriter In John Sayles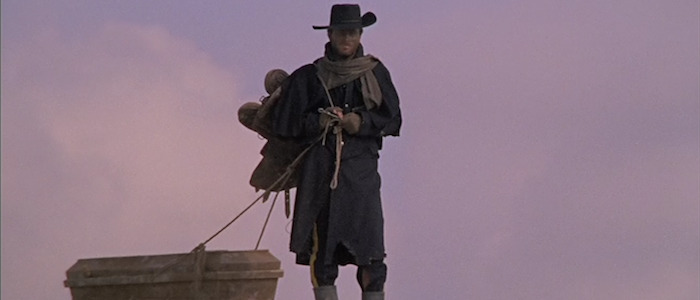 Almost three years ago, Django Lives! was announced and the timing couldn't have been more fortuitous. Quentin Tarantino's Django Unchained was just about to hit theaters and people – normal people! – were actually interested in the spaghetti western icon whose name inspired Jamie Foxx's slave-turned-bounty-hunter. But that was three years ago and this sequel, the third in the Django series, was thought dead. Until right now. Seemingly out of the blue, it has been revealed that acclaimed writer and director John Sayles has been hired to pen the screenplay. Hopefully, it won't take another three years for another update.
To learn what there is to know about the new Django Lives screenwriter, hit the jump.
The news of Sayles taking on the job comes to us from The Hollywood Reporter, but details beyond that are slim. However, Franco Nero, who played the titular gunslinger in 1966's Django and 1987's Django Strikes Again, has high praise for Sayles:
John Sayles is a master of literature. His Lone Star is one of the greatest modern Westerns ever shot. He knows how to be exquisitely cultivated and people-oriented at the same time, exactly like another master I've worked with, Mr. Orson Welles. And that says a lot.
In addition to Lone Star, for which he received an Oscar nomination, Sayles has penned everything from hugely entertaining B-movies like Piranha and Alligator to more serious fare like Matewan and Eight Men Out. He even wrote The Spiderwick Chronicles, proving that he can rub elbows with all of that modern YA stuff. Few writers have showcased such a broad and succesful, so why not hand him a Django movie?
Although the Django name will be best known to modern audiences from Django Unchained, that title is a reference to Nero's ultraviolent 1966 western. Originally envisioned as a drifter who wanders the Wild West with a casket containing a gatling gun, the Django name has been utilized for dozens of rip-offs over the years. Of course Tarantino, that lover of old school schlock, would make a Django rip-off of his own. However, the role originates with Nero, so Django Lives! will be the third official film in the series. Even Tarantino knew that he was simply riffing on something bigger, so he went ahead and put Nero in his movie, just so cinephiles would know that he knew what he was doing.
The last time we heard about Django Lives!, the plot followed an aging Django as he collided headfirst with the 20th century:
The story would have former gunslinger Django, in his twilight years, ending up as a silent-movie consultant in 1915 Hollywood and meeting an aspiring filmmaker with whom he reluctantly goes into business. When the filmmaker gets killed by racketeers, the young man's gambling debts are considered transferred to Django, who must now flee for safety to a small rural community. But that town's sharply divided inhabitants have their own problems, and Django becomes embroiled in a bloody conflict immediately upon arrival.
That was literally three years ago and it could have easily changed by now. Whether Sayles will be doing his own thing from the ground up or riffing on that premise is entirely unknown. Sayles is a smart guy with the western genre in his bones. He's got this. He's also a B-movie veteran, so he knows that any Django movie is going to need a preposterous scene like this:
The jury is still out on whether or not that Django television series is still going to happen, but at least Django Lives! is still breathing.