Why Sienna Miller Was Cut From 'Black Mass'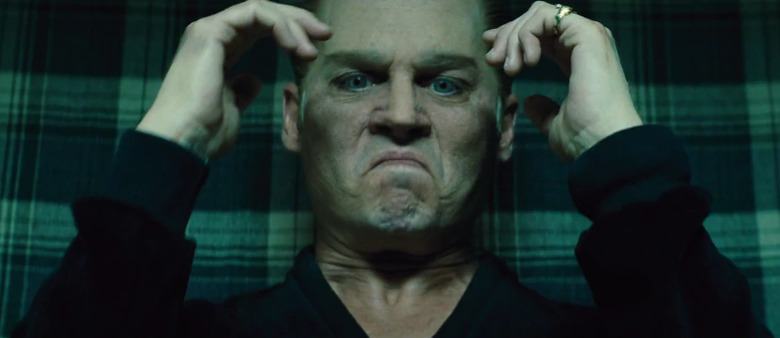 With gangsters, wigs, makeup, thick Boston accents, and a period setting, Black Mass was an opportunity for some actors to really act. Johnny Depp, Joel Edgerton, and Peter Sarsgaard, to name a few, gave very large performances. Sometimes they were grounded and human, sometimes they weren't. Whatever the case, writer/director Scott Cooper (Crazy Heart) put together an excellent cast, but one of the many fine actors initially involved didn't make the final cut. Learn why Sienna Miller (Foxcatcher) was cut from Black Mass after the jump.
Black Mass feels like a movie missing pivotal character beats. Cooper showed us actions, but the movie rarely offered much insight into those actions. It wouldn't be surprising if it turned out there were a much longer, more patient cut of Black Mass out there. Perhaps that was the version that featured Sienna Miller, who was part of scenes which depicted Bulger's life as a fugitive.
Speaking with Fandango, Miller, respectfully, discussed why she wasn't very surprised her character was cut from the final film.
It's been totally blown up in a way that's insane, because I shot four days on that film. I had just done American Sniper, which was Warner Brothers, and they said, "Do you want to pop in and do a cameo and work with Johnny Depp for a couple of days?" It was actually only two days and then they added some scenes. It was going well and they wrote some new stuff. But it was always a cameo. It was always a part of the film that I felt was disposable, because when he met Catherine Greig, he stopped being a gangster so dramatically that his life just became less interesting.
Cooper decided he would rather focus on Bulger's life as a criminal. At the end of the day, Miller had a fun time on the project, and since it was only a few days' work, it's hardly a big deal.
It was a really fun thing: come in, work with Johnny Depp, and speak in a Boston accent for a couple of days. So it was a no-brainer, but not something I committed an enormous part of my life to. When you do a cameo, it's totally to be expected and happens all the time. But for some reason, when it happens with me it becomes like a media shit storm that no one really cares about probably. So, no, not a big deal. Totally fine in that situation to expect that it might not make it. But I would still have gone back and done it again because I had a really fun couple of days.
I do wish Miller would star in more films, rather than being cut from them. Looking at her performances in Foxcatcher or Mississippi Grind (the latter of which is excellent and still in theaters), she makes these subtle transformations. The actress can disappear into roles, without requiring goofy wigs or loads of makeup. Miller was cut from Black Mass, but at least she still has a supporting part in John Wells' (The Company Men) upcoming film Burnt, starring Bradley Cooper (American Hustle).