Star Wars Bits: Del Rey Books, Force Awakens Running Time, Disney Infinity And More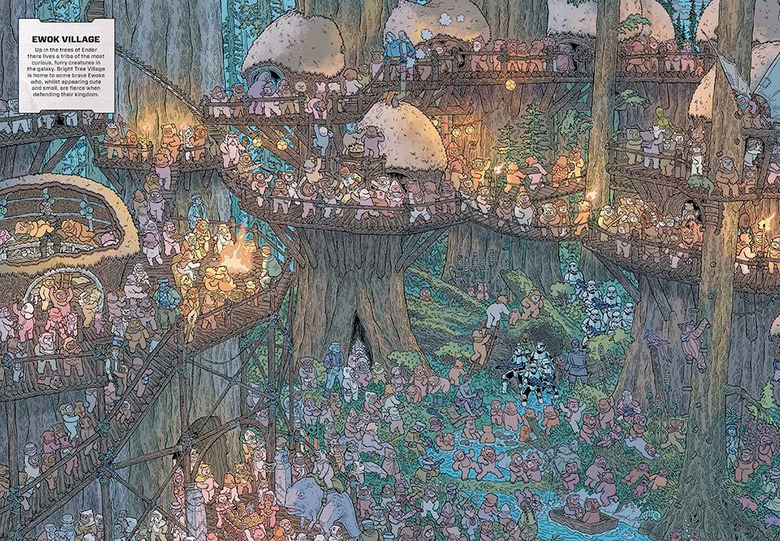 We may receive a commission on purchases made from links.
It is obvious that this contest cannot be decided by our knowledge of the Force but by our skills with Star Wars Bits. Here's what we have in this edition of updates from a galaxy far, far away:
Del Rey announces two new Star Wars books coming in 2016
The Force Awakens figures revealed for Disney Infinity 3.0
New Star Wars comic following prequel-era Anaking and Obi-Wan reealed
Star Wars: The Force Awakens running time revealed?
More Journey to the Force Awakens books revealed with new alien characters
Find Chewbacca in a Where's Waldo-style Star Wars book
Header image: A page from the search and find activity book Where's the Wookiee? (see more below!)
The Journey to Star Wars: The Force Awakens has been a big publishing push for books that fill in the gap between Return of the Jedi and The Force Awakens, but the new books won't stop when the movie opens in December. In fact, Del Rey has just announced three new titles that will hit shelves in 2016 and 2017. As you can see, the covers above are not final, but they do give us the titles.
GREAT authors bringing us great @starwars books. @ChuckWendig @claudiagray #AftermathLifeDebt #NewRepublicBloodline pic.twitter.com/cE76JNdvTb

— Star Wars Books (@DelReyStarWars) October 10, 2015


New Republic: Bloodline is from Claudia Gray, the author of the recently released young adult Star Wars book Lost Stars. This is a Del Rey book, which may indicate it's a more adult novel, just like the rest of their Star Wars books. But maybe it will follow characters from Lost Stars? We'll have to wait and see.Aftermath: Life Debt and Aftermath: Empire's End are the final two books in Chuck Wendig's trilogy that began with Star Wars Aftermath just this past September. The title could be a reference to the relationship that Chewbacca has with Han Solo, who was mentioned in an interlude in Aftermath as preparing to liberate the Wookiee's planet Kashyyyk from the Imperial remnant controlling it. Maybe this will dive more into the duo's history.
More details on these books will arrive as 2016 gets closer, and if you want a recap of the panel for Journey to the Force Awakens from NYCC this past weekend, head over here. [StarWarsNewsNet.com]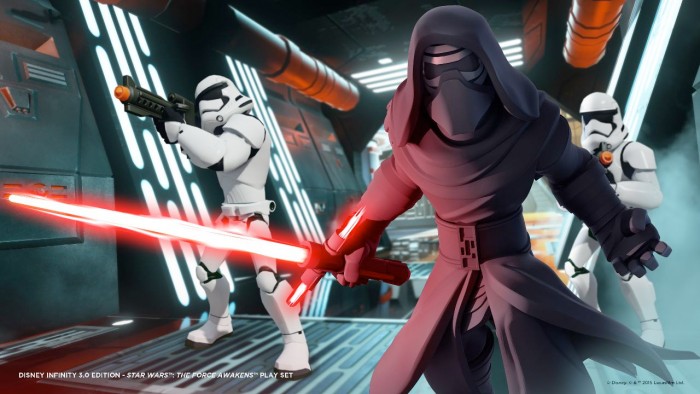 Images of The Force Awakens expansion coming to Disney Infinity 3.0 this winter have surfaced online, giving us a look at the video game versions of Rey, Fin, Poe Dameron, BB-8 and Kylo Ren. Here's what the figures look like along with one more shot from the game:
If you're looking to pick up some Star Wars Disney Infinity packs, but you want to spend a little less money, check out this deal at Target to get 40% some of the currently released playsets.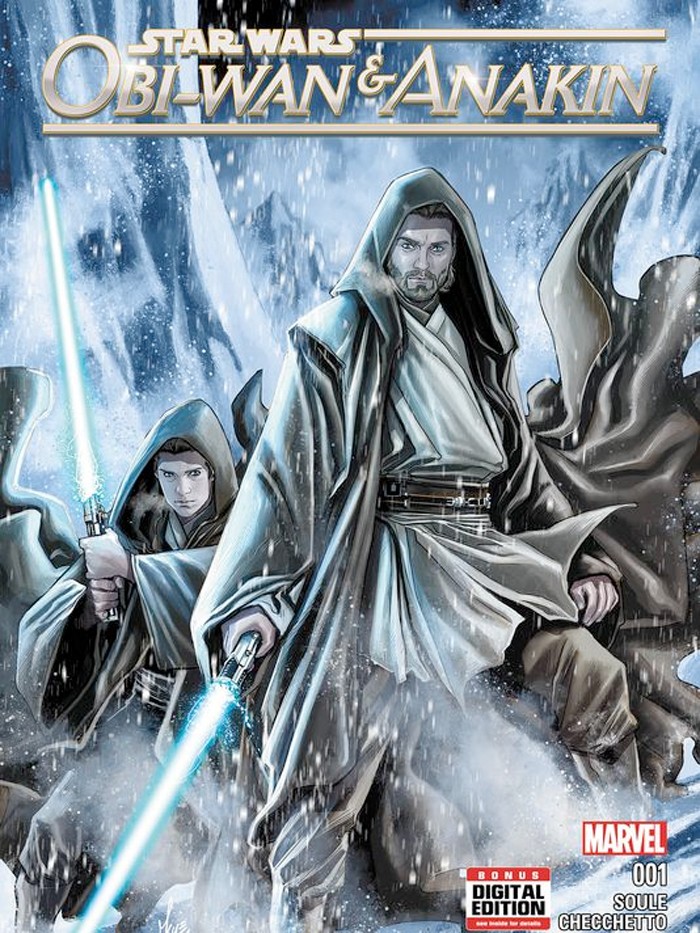 There are a lot of new Star Wars comic books out there from Marvel right now. In addition to the main Star Wars comic series, there are spin-offs focusing on Darth Vader, Princess Leia and Lando Calrissian, as well as the new Shattered Empire series, and a Star Wars Rebels comic following Kanan. Now a prequel-era comic is on the way following Anakin Skywalker and Obi-Wan Kenobi in their early days of the former's apprenticeship with the latter Jedi Master.
Star Wars: Obi-Wan & Anakin is a five-issue miniseries that will begin in January. It'll explore the time between The Phantom Menace and Attack of the Clones, with Skywalker three years into his training. Writer Charles Soule (of the Lando comic series) says, "We've seen a lot of them but this is something that's going to feel and look different. What you have is a person who goes from being a boy to being a young man in between those two films, which is really significant."
Here's how USA Today describes the forthcoming comic:
[Anakin] and Obi-Wan are in a spaceship heading back to a diplomatic fleet when they get a distress call from a remote deserted planet. When they land, the Jedi find a mountainous place with deep valleys containing huge roiling clouds of green mist that cover the surface... While they go on their mission, it's interspersed with flashbacks showing how the title's main stars reached a personal crisis point between them.
If you want to know more about the comic by way of more quotes from Soule, check out USA Today's full story. Plus, there's some information about the comics in a recap of a panel from NYCC that you can check out right here.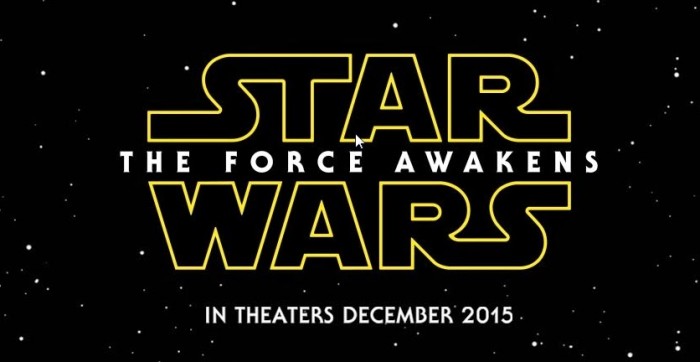 The running time of Star Wars: The Force Awakens may have been revealed as a theater employee across the pond (who previously knew accurate information about the Batman v Superman: Dawn of Justice trailer release) has shown off some documents listing the movie clocking in at 136 minutes. This is just a rumor for now, but it sounds like this could be accurate. [StarWarsNewsNet.com]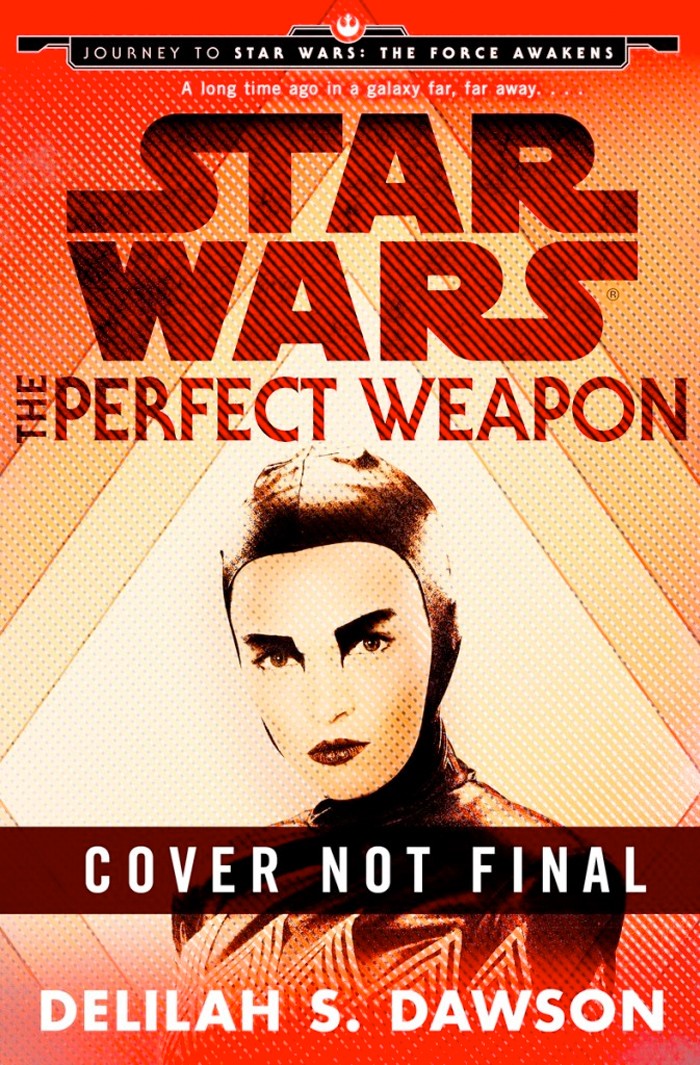 In addition to the new Del Rey books above, a couple other titles from the Journey to Star Wars: The Force Awakens publishing initiative were revealed, and both have ties to characters we've actually already seen from Episode VII. You may remember that Vanity Fair released a whole photo spread that showed a slew of new alien characters, and it turns out at least two of them are getting their own book.
If you check out that link to the photo, you'll see a woman in the middle dressed in black and gray. Her name is Bazine and she'll be the focus of a new book called Star Wars: The Perfect Weapon. That book will arrive on November 24th.
In addition, Landry Walker has a series of novellas coming in a book called Star Wars Tales from a Galaxy Far, Far Away: Aliens, and it will feature titles such as High Noon on Jakku, Face of Evil, All Creatures Great and Small, plus two additional novellas not yet announced. There's also one called Crimson Corsair and The Lost Treasure of Count Dooku, which features the bright red character from the above Vanity Fair photo. The first four novellas will be released on December 1st as e-books and then will be combined with two other novellas for a paperback release in April 2016. [Jedi News]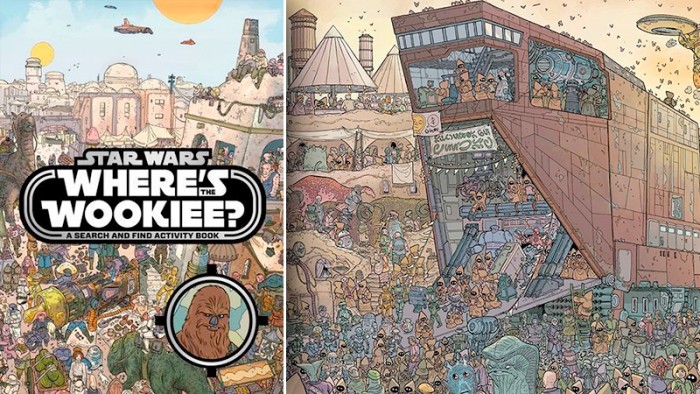 If you're a fan of Where's Waldo and you love Star Wars, then you might want to check out Where's the Wookiee?, a new search and find book available now:
Chewbacca, a notorious rebel ally, is wanted for crimes against the Empire. Not often seen without his partner-in-crime, Han Solo, this Wookiee has evaded capture on multiple occasions, due in no small part to the fastest freighter in the universe, the Millennium Falcon. Chewie, as he is more commonly known, has a sizeable bounty on his head. Can you find this furry criminal before other accomplished bounty hunters beat you to it? A uniquely illustrated search and find format, perfect for Star Wars fans young and old!
The image above is one of the example pages, and you can see another at the book's Amazon listing right here. It's weird that they make the default person looking for Chewbacca a bounty hunter, because that kinda makes kids looking for Chewie a bad guy. But whatever works, I guess.
That's all for this edition of Star Wars Bits. Stay tuned for more soon!