POTD: Jared Leto & Mark Ruffalo Went To NYCC In The Creepiest Disguises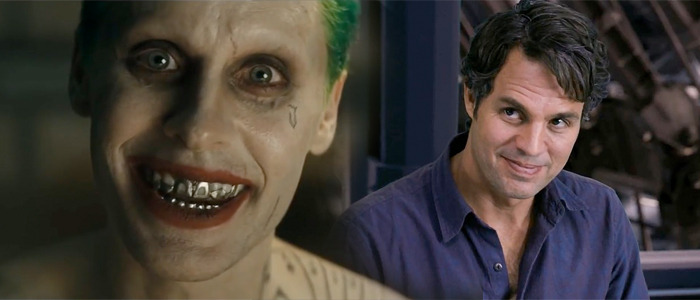 More often than not, the actors and actresses who bring your favorite comic book characters to life on the big screen are fans just like you. They grew up idolizing certain superheroes, and it's a dream for them to be playing them, just as it is for you to see them become as real as they can on film. However, they can't enjoy fandom the way we can without being swamped by other fans who want to take pictures with them and want their autograph.
But plenty of stars have found an awesome workaround that helps them fit in with the masses of fans, even at a place that's overrun with the most rabid of them: cosplay. Many an actor and actress have worn costumes in order to walk the showfloor at Comic-Con without being mobbed by fans, and Jared Leto and Mark Ruffalo have just joined their ranks.
At New York Comic-Con over the weekend, the stars of The Avengers and Suicide Squad wanted to check out the crowd, but they had to do it incognito. But after they had left NYCC, they showed fans how they walked the showfloor. Let's look at what Jared Leto sported at NYCC first:
He had no idea. #NYCC2015 pic.twitter.com/zFWsrTbSGv

— JARED LETO (@JaredLeto) October 11, 2015
That's right, Jared Leto dressed as the creepiest form of Rafiki from The Lion King wearing a nice jacket. The best part of this revelation is that Leto took a picture with a fan dressed as his new version of The Joker from Suicide Squad. That was probably a nice surprise once this picture started making the rounds online.
Not to be outdone, Ruffalo decided to sport another completely creepy disguise, choosing not to dress up as a specific character, but rather as some strange, deformed, mustached man:
However, we can't help but notice that with that color scheme shirt, he looks like some kind of disturbing version of Luigi from Super Mario Bros. And if you're wondering who that kid is with Ruffalo, that's his son, who was able to enjoy a peaceful Comic-Con in that unnerving mask.
But while these disguises are cool, it doesn't top the time Bryan Cranston went in disguise to San Diego Comic-Con as Walter White from Breaking Bad, wearing a very realistic mask of his own face while walking the showfloor.