'Escape From New York' Remake Is Still Alive; Has Found New Writer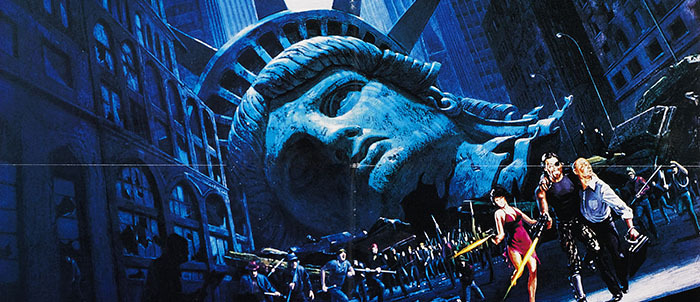 For over eight years now an Escape from New York remake has been in development. Originally, Gerard Butler (300) was set to star, which, if I recall correctly, made a puzzled Kurt Russell ask, "Isn't Snake Plissken an American?" Butler, like many writers and directors, departed from the project. Today, some life has been breathed back into the in-development-hell film, as there's a new Escape from New York remake writer onboard. Read more after the jump.
Some notable screenwriters, like Gary Whitta (Book of Eli) and Ken Nolan (Black Hawk Down), once worked on the script for the remake. Reported by Jeff Sneider, Luther creator Neil Cross has been hired to write the newest draft. Cross isn't a stranger to morally ambiguous characters, so he's a fine match for Snake Plissken.
There have been a few incarnations of this remake, so we're not sure if this will be a straight-up remake or, as producer Joel Silver suggested in 2014, an origin story:
There was a videogame that came out a few years ago called Arkham City, which shows how when Gotham became this kind of walled prison. And they never deal with that in the story of Escape from New York, so part of our idea was to kind of see how the city became this walled prison and how the Snake Plissken character was a hero and how he became not looked at as a hero. And then, in the middle of the story, would be the movie that we, you know, previously saw about the President's daughter goes down, he has to go in and get her. And then, you know, they did a sequel, Escape from LA, but I would like to then kind of find a way to have New York go back to a place that we'd like to see what it is today.
In other news, Escape from New York director John Carpenter will executive produce the film. He was also a producer on The Fog remake, so whether this is good news or not, it's difficult to tell. If Carpenter has some creative input, then great. If not, well, at least he gets a paycheck.
20th Century Fox currently own the rights to the remake, but no director, that we know of, is involved at the moment. Breck Eisner (The Last Witch Hunter) was previously attached to direct, which didn't sound like such a bad idea after he did a pretty good job remaking The Crazies.
It's been over a year since we've heard anything regarding Escape from New York casting. Last August, Charlie Hunnam (Pacific Rim) was rumored to be the top choice to play Snake. Dan Stevens (The Guest) and Jon Bernthal (The Wolf of Wall Street, Daredevil) were also on the short list. Stevens and Bernthal, in particular, have what it takes to pull off the character.
One name that gets thrown around a lot by fans these days is Emily Blunt's (Sicario). You could call that an obvious choice, since we've seen her kicking quite a bit of ass recently, but what makes her truly great in Edge of Tomorrow and Sicario is how multi-dimensional the performances are, not just how tough they are. Blunt can do comedy, drama, and convincingly handle herself in a fight. There's nothing she's proven herself incapable of playing on film, so why couldn't she play Snake Plissken?