LOL: How Marvel's 'Ant-Man' Should Have Ended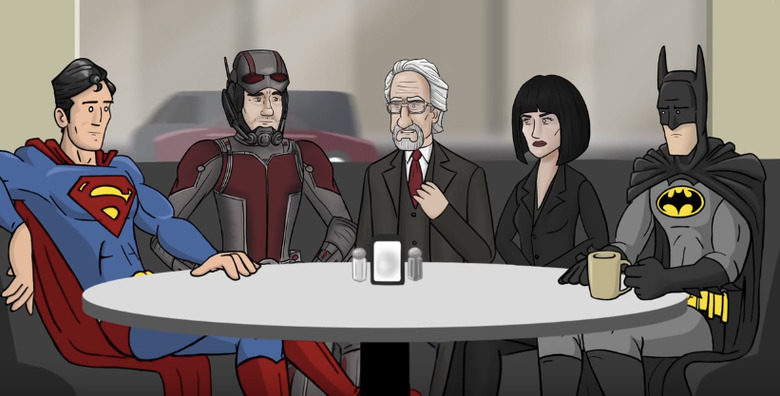 Just last week, Marvel Studios officially announced a sequel to this past summer's Phase Two title Ant-Man. The follow-up will be called Ant-Man and The Wasp, following up the Ant-Man credits teaser revealing Hope Van Dyne (daughter of Hank Pym, played by Evangeline Lilly) would get her own superhero suit to join Scott Lang (Paul Rudd) on his Ant-Man adventures.
But if for some reason you weren't satisfied with the more isolated, low-key superhero flick, you might find some playful jabs at the movie from the folks at How It Should Have Ended to be right up your alley. They point out some amusing details and shortcomings that the film kind of glosses over, but if you get lost in the film and ignore those elements, then it's all good, right?
Here's How Ant-Man Should Have Ended from the HISHE YouTube page:
In retrospect, the complex way that Hank Pym (Michael Douglas) got Scott Lang to end up in the Ant-Man suit is more than a little unnecessary. One could argue that Scott needed to come around to this decision by himself and see that his options as a former felon were pretty limited, but even so, the way that Pym set up Lang to prove himself worthy of the suit and his time is certainly more complicated than it needed to be.
I will say that when Darren Cross (Corey Stoll) used that shrinking gun to take out one of his government adversaries, it made me wonder why he's just not using that all the time. And the same can be said for that tank in Hank Pym's pocket, so it's hard to argue with the amusing but valid points brought up here.
Of course, it's the complicated sequences that make the movie that much more exciting, and as long as they're done well, then audiences don't really question some of the logic.