Guillermo Del Toro's Black & White 'Silver' Sounds Completely Bonkers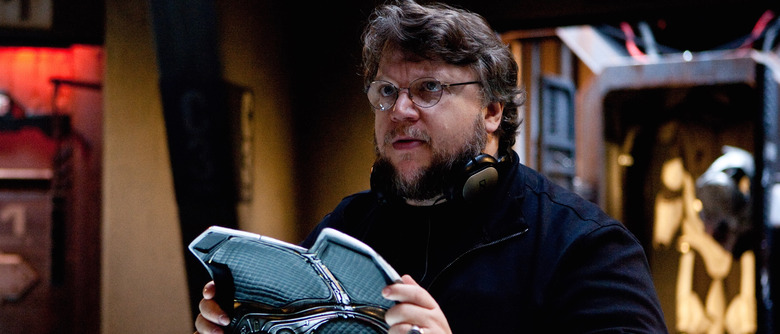 After having the first iteration of The Hobbit and the adaptation of At the Mountains of Madness fall through his fingers, director Guillermo del Toro focused his time on the big sci-fi action adventure Pacific Rim and then moved back into horror territory for the forthcoming Crimson Peak (in theaters later this week). But we've heard recently that del Toro will be taking a break from big studio projects for a new black-and-white indie, and some details on that project have just surfaced. Not that we're surprised, but it sounds extremely odd.
Get the new details on what could be Guillermo del Toro's next project after the jump!
Update from Editor Peter Sciretta: Guillermo Del Toro took to twitter to clear up some confusion about this project:
2 Tweets: To clarify some confusion in the NYT article: I discussed a possible future wrestler film called "Silver" not "Silva" (my accent)

— Guillermo del Toro (@RealGDT) October 12, 2015
Tweet 2: My next project is NOT that movie. We shoot next year and it's a smaller film in English.

— Guillermo del Toro (@RealGDT) October 12, 2015
Brad's original story follows with title corrected:
Speaking with The Guardian (via The Playlist) while promoting Crimson Peak, del Toro let some details slip on his new project, including that the film's title is Silver, which is a pretty common Spanish last name. Here's they wrote in their story:
'Silver,' which he sees as a black-and-white, low-budget project, was a casualty of the early termination of his film-making career in Mexico; his family fled the country for Toronto after his father was kidnapped and the family paid a ruinous ransom.
That detail about del Toro's life is pretty crazy in itself, but it's not quite as nuts as hearing that Silver will follow a masked Mexican wrestler, known as Luchadors, who discovers that all politicians are vampires and sets out to vanquish them. Yeah, we told you the movie sounds pretty crazy, but in the hands of del Toro, could be something really entertaining. And considering his history with the idea, it sounds like this one has been kicking around in his mind for awhile.
In addition, this indie film may not be so much of a break as it is him getting back to doing small, strange projects like he used to do. The director had this to say about his time with blockbuster filmmaking and desire to get back to his roots:
What I can tell you quite safely is, I don't intend to keep on doing big, giant Hollywood movies for much longer. 'Crimson Peak' is a great permit for me to work on a smaller scale. I mean, it's big for a drama, but it's a much smaller undertaking than 'Pacific Rim' or 'Hellboy.' I can't say which ones, but I've been offered gigantic movies in the superhero genre, but I don't like the superheroes that are... nice. I like the dark ones, so 'Blade' and 'Hellboy' were right for me. The mechanics of action only interest me when it's a universe very, very close to my heart, which 'Pacific Rim' is, and I love it. I'm not going to pursue action movies or superhero movies at all any more. I hope I can go back to doing the smaller, weirder ones.
So while we may see Hellboy 3 or Pacific Rim 2 come to fruition, those might be the last blockbusters we get from del Toro for a while. Frankly, that's fine with me. I'd rather see what more original ideas the director has up his sleeve, especially if they're as strange as all the doodles and ideas he has in that sketchbook he's always carrying around.
Oh, and if you're still wondering about the status of Pacific Rim 2 after Universal removed it from their 2017 release calendar while promising they weren't abandoning it, del Toro recently offered this update on Twitter:
To answer all tweets re: PAC RIM 2: Budget ready. Awaiting script from John Spaihts. Then is up to the studios to give it a green light.

— Guillermo del Toro (@RealGDT) October 11, 2015
So keep your fingers crossed, Pacific Rim fans! There's still hope! In the meantime, we'll be looking forward to hearing more about Guillermo del Toro's Silver, and also seeing if Hellboy 3 ends up becoming a reality. Stay tuned.