J.J. Abrams Has Final Cut On 'Star Wars: The Force Awakens'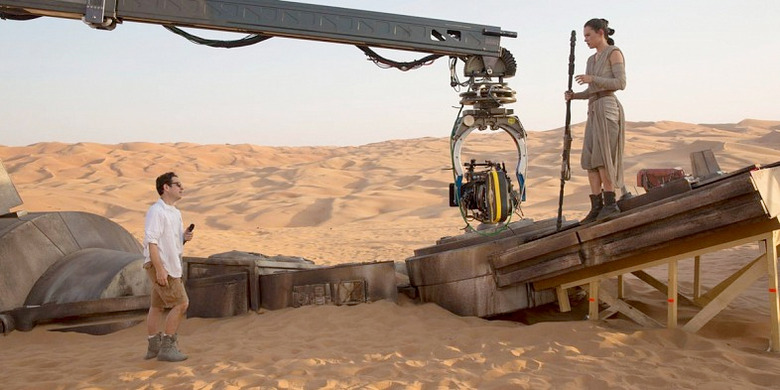 Ever since Disney purchased Lucasfilm, many fans of the galaxy far, far away have been worried about the House of Mouse corrupting the sci-fi saga they love so much, as if all the merchandising done previously hadn't already vigorously milked the cash cow. Thankfully, director J.J. Abrams has good news for concerned fans as he says the studio is "not trying to Disney-fy" our beloved Star Wars.
In a recent talk for Vanity Fair, Abrams sat down with Apple designer Jony Ive for a conversation moderated by Imagine Entertainment's Brian Grazer. Some interesting details on the future franchise surfaced, including that the director has control over Star Wars: The Force Awakens final cut.
If you feel like watching the entire, fascinating hour-long talk from Vanity Fair, here you go :
But if you don't have that kind of time, we have the highlights (via The Playlist) you're most curious about. First of all, Grazer flat out asked Abrams if he has final cut (or rather the last word on the edit) on The Force Awakens. Abrams didn't hesitate to confirm, "Yeah, yeah." However, Abrams also added that "when you do a Disney project, there's a clause in there that you kind of go, 'Well, if I were a lawyer I could probably drive a truck through it...'"
That likely means that the contract is written in such a way that if Abrams was working on The Force Awakens and it turned out to be an unmitigated disaster, Disney has the right to take the movie away from him and do as they wish. That's not surprising when a studio is dealing with a multibillion-dollar property such as Star Wars, but it sounds like Disney has a lot of faith in Abrams and haven't had to interfere with his vision for the beginning of this new trilogy.
Abrams even went on to praise the executives at Disney for being so easy to work with:
I cannot say enough about how Bog Iger and Alan Horn have understood this thing that is now part of the Disney company. And they're not trying to Disney-fy it, they're not doing anything other than, I think, an incredibly smart thing, which is letting Kathleen Kennedy — who is a remarkable person and producer — run and lead Lucasfilm to a place where I think it wants to go. They let us make the movie we wanted to make.
All things considered, Abrams isn't the kind of guy that's going to spout any gossip or bad words towards those overseeing his movie. But if things weren't going well, we probably would have heard about it by now, and Abrams wouldn't be so quick to throw out compliments like that unprompted. There were rumblings of a release date tiff with rumors that Abrams and Kennedy wanted to push back the film to summer of 2016, only to get a denial from the studio, but that appears to be irrelevant at this point.
Depending on how you feel about Abrams as a filmmaker, him having final cut on The Force Awakens could be good or bad news. But it sounds like he's a little more collaborative than George Lucas was on the prequels, with plenty of people to provide insight and different opinions (or more importantly, to tell him no at the right time), which Abrams seems very willing to hear. We'll find out how Abrams did with his time in the Star Wars universe in just a couple months when the movies arrives on December 18th (or the evening of December 17th in some places).