Vin Diesel Reveals Who Will Be Directing 'xXx 3'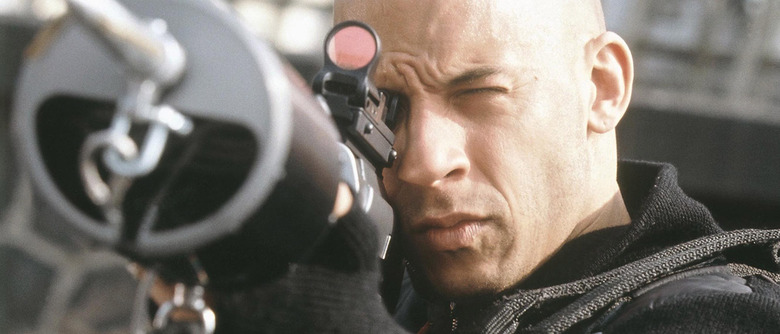 Hot on the heels of finding a director for Furious 8 in Straight Outta Compton filmmaker F. Gary Gray, another Vin Diesel franchise has finally found a filmmaker to take on the next sequel.
xXx 3 has been teased by Diesel since 2008, and every year there's been a promise of it finally coming together. More recently that possibility has seemed a little more solid since Diesel said xXx 3 would be shooting in December in the Philippines. However, we hadn't yet heard who would be getting behind the camera for the action sequel. But that changes today as a xXx 3 director has been revealed.
Our old pal Germain Lussier at io9 spoke with Vin Diesel this morning, and the actor revealed that Eagle Eye director D.J. Caruso would be at the helm of xXx 3: Triple the X's, Triple the Fun*. However, the exact timetable for when the sequel will shoot now seems to be in question, especially with Furious 8 on the fast track to meet Universal's previously set release date of April 14th, 2017. Here's what Diesel had to say about xXx 3:
I'm excited as hell about xXx. D.J. Caruso is directing it, which is exciting. The big question now is which will race to production first now that F. Gary Gray is on [Furious 8]?
Furious 8 is certainly the more bankable and reliable franchise for Diesel, and Universal will probably push to get it off the ground as soon as possible. But if Diesel was counting on shooting xXx 3 in the Philippines this winter, then Sony might be able to get that done before Diesel has to go off and shoot Furious 8.
If I were a betting man, I wouldn't count on seeing xXx 3 move forward before Furious 8, but it all depends on how the studios and Diesel decide to move forward. There's undoubtedly a bigger fanbase for the Fast and Furious franchise than xXx, so Diesel would be smart to satisfy those fans first. But he's still dedicated to returning to the action role that came just one year after the original The Fast and Furious. Diesel says:
xXx is one of those films you do when you need to have a little fun. When the weight and pressures of all the other things have gone so far that you need to have a character that you can just have fun and more comment on life and comment on the outcome than being in it like Dom Torretto. Dom is very much the center of the storm, Xander is more the guide to something else and you're just with him.
That's a nice way of saying that xXx is even more ridiculous and silly than the Fast and Furious franchise, and it's hard to disagree with that sentiment. Both franchises have a bunch of mindless, wild action, but xXx doesn't have the investment and emotional core between characters that The Fast and Furious franchise does. It also doesn't have a release date, which is another strike against it.
As for the hiring of Caruso, I suppose it's nice to see that he's not in movie jail anymore after flopping with Eagle Eye and I Am Number Four. Caruso is a safe choice for an action sequel director, and while he's pretty generic, I rather enjoyed Disturbia for being an unofficial contemporary remake of Rear Window. He should be able to deliver what fans out of a movie like xXx 3.
Anyway, we'll see Diesel back in action again very soon, we're just not sure which franchise will get him back on the big screen first. But if you need to refuel on Diesel, you can see him in The Last Witch Hunter on October 23rd.
*This is not the real title of the movie, but if it was, I would buy two tickets.