Rumor: Michael B. Jordan To Play Boba Fett In Delayed Spin-Off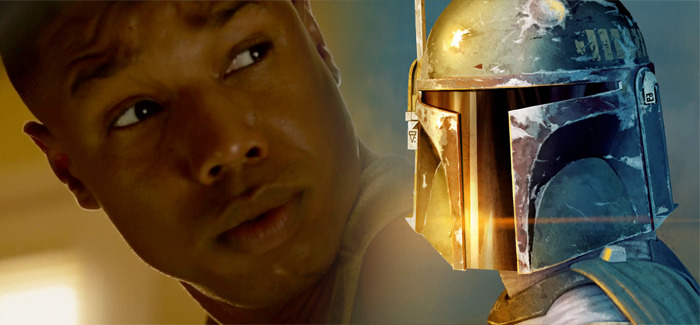 Due the box-office fallout and reported behind-the-scenes trouble on the reboot of Fantastic Four, director Josh Trank ended up being removed from the next installment of the Star Wars Story spin-off series of films. The film was rumored to focus on Boba Fett, but it has now been pushed back in favor of Phil Lord & Chris Miller's spin-off following Han Solo instead.
However, that doesn't mean that Disney has given up the hunt for someone to step up and replace Trank in the director's chair for the project being developed by Simon Kinberg. Reportedly, Straight Outta Compton director F. Gary Gray (who just signed on to direct Furious 8) was being considered for the Star Wars Story, and along with that, he said there's a possibility of seeing Michael B. Jordan as Boba Fett.
This news comes from The Wrap reporter Jeff Sneider, who dropped this rumor on the Meet the Movie Press podcast (via Latino Review). The fact that he merely mentioned it on the podcast rather than putting it in a report means that it's not necessarily the most solid information, but if someone like Sneider is hearing this kind of thing, that does lend some credence to the information.
Unlike the unnecessary complaints about John Boyega playing a black Stormtrooper in Star Wars: The Force Awakens, fans may have a reason to be annoyed with the casting of Jordan in the role of Boba Fett. After all, Temuera Morrison, the actor who played Jango Fett, is of Maori, Scottish and Irish descent. And since Boba Fett is a clone of his father, he should probably be pretty close in appearance, because that's just how clones work. Therefore, suddenly having Boba Fett be a young black man seems a little odd.
However, considering how contrived and annoying the clone origins of Boba Fett turned out to be, I wouldn't mind if there was some kind of departure from the origin put forth in Attack of the Clones. What if the Boba Fett we know from the original trilogy wasn't the Boba Fett we know from the prequel trilogy?
Honestly, I would find it more interesting and acceptable if at some point in Boba Fett's timeline, someone killed him and took over the identity of Boba Fett. Maybe Fett's anger and desire for revenge gets him into trouble so he crosses paths with the wrong guy and gets taken out, allowing for someone to pick up his armor and become the bounty hunter we all love.
The possibility of this happening is slim, because Temuera Morrison was already used to dub over Boba Fett's lines in the more recent home video releases of The Empire Strikes Back. So we know that's still the Boba Fett from Attack of the Clones all grown up. But that's just more reason for fans to be confused by the presence of someone like Jordan as Boba Fett. Knowing that Trank was once involved with the project also makes this rumor a little more solid.
Previously, we had heard that Disney and Lucasfilm were having trouble cracking the Boba Fett film, mainly because they were having a hard time reconciling his villainous tendencies with their desire to make him the hero of his own movie, all without ruining any of the mystique set up by the original trilogy.
All of these details and rumors just solidify my feelings that an entire film focused around a character like Boba Fett is a bad idea. Boba Fett is cool because we don't know much about him, and he says only a few lines in the entire trilogy. Getting someone like Jordan, or anyone else of note, to play him just seems misguided. The bounty hunter would be better off as a supporting character in the Han Solo spin-off instead, which may still be a possibility.
Anyway, if a Boba Fett spin-off does move forward, we'll just have to trust that the Lucasfilm brain trust knows what they're doing and won't mistreat or ruin the character that many Star Wars fans have come to love. The film is still years away from getting in front of cameras, so stay tuned to see how this one ends up coming together