Watch Never Before Seen Robin Williams Outtakes From 'Aladdin' Recording Sessions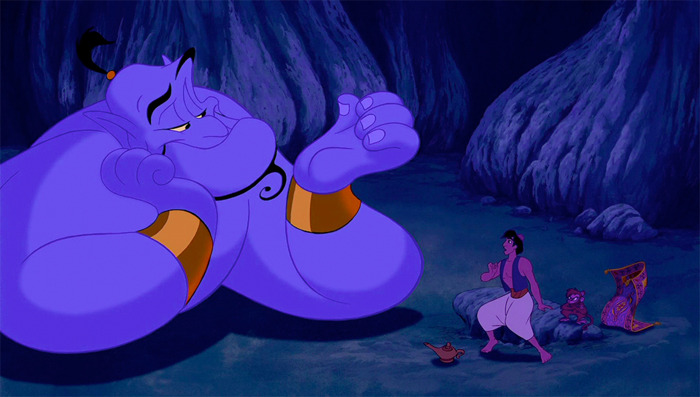 We may receive a commission on purchases made from links.
It's hard to believe, but it's been 23 years since Disney's animated musical Aladdin hit theaters. And while it's not a special anniversary for the film, the film comes to Blu-Ray for the first time on October 13th, which means there are some cool new special features that are coming to light.
One such feature reveals Robin Williams Aladdin outtakes from his voice recording sessions as Genie, one of most iconic roles from the late actor's celebrated career. And a tease of the never-before-seen footage of Williams firing on all cylinders has surfaced online. Watch it below!
Here's a taste of the Robin Williams outtakes from Aladdin from ABC News:
Speaking with Good Morning America for the segment, co-writer and director John Musker opened up a bit about the unforgettable performance that Williams put into Genie:
He was the Genie, he was bigger than life. We didn't know if he would do it. And fortunately for us, he did. We were totally walking down the plank. If he said no, we were going to be in big trouble because the whole concept was built around Robin. Fortunately he agreed to do it, and he worked so hard. We would record in four-hour sessions. He would be going four hours straight. We would have practically four hours of recording and by the end he was just drenched. He would have so much energy and so much passion.
Indeed, it's hard to imagine anybody in the role of Genie other than Robin Williams, if only because the energy and frenetic comedy of the character is inspired by Williams' larger-than-life persona, with a comedic mind that is always a few steps ahead of everyone else. And these outtakes show that he had endless variations on his dialogue, so much that we could probably have entirely different scenes with Genie and still have spare footage.
It's times like this that it's hard to accept that we lost Robin Williams last year. We learned that we never entirely knew the kind of demons he was battling in his personal life, despite the entertaining front he would put on whether the cameras were rolling or not. Personally, I'll always cherish the moment I got to meet Williams after one of his stand-up shows while I was in college. After signing my ticket with "Bangarang!" he proceeded to scream it to the crowd. I will never forget that.
Aladdin gets released on Blu-ray and re-released on DVD on October 13th.
When street rat Aladdin frees a genie from a lamp, he finds his wishes granted. However, he soon finds that the evil has other plans for the lamp — and for Princess Jasmine. But can Aladdin save Princess Jasmine and his love for her after she sees that he isn't quite what he appears to be?