Here Is Every Movie In Contention For The Best Foreign Language Film Academy Award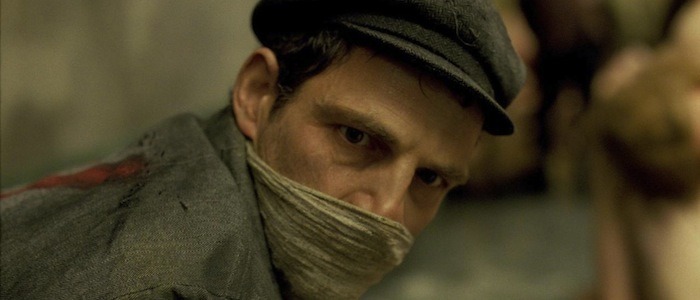 Complaining about the Academy Awards is the national pastime of many movie fans, but let's not forget that they can do good. Sometimes. After all, the Foreign Language Film Oscar helps bring international cinema to the attention of casual filmgoers who otherwise wouldn't venture outside of Hollywood filmmaking. Like with any awards category, great films get snubbed and the lesser entries often triumph over masterpieces (we're still sore about Ruben Ostlund's brilliant Force Majeure not even getting a nomination last year), but at least this category represents a window into a much wider world of filmmaking.
The Academy of Motion Picture Arts and Sciences has released the full list of every movie eligible for the Foreign Language Film Oscar this year. The full list, numbering 82 entries, can be scanned at your leisure after the jump.
The Academy Awards are run by all kinds of weird, frequently arbitrary rules and regulations. Chief among them is the submission process for the Foreign Language Film award, which only allows one submission per nation. That means a country must select a single film to submit to the Oscars. If a country produces two bonafide masterpieces in one year, too bad. They have to pick one. If the film they do choose doesn't get one of the five official nominations, too bad. Maybe they should have selected another movie. The Oscars are a weird thing.
Anyway, we won't lie to you – we haven't seen all of the submitted films. Not even close. In fact, many of these movies will never see the light of day outside their home nation. We've even missed some of the obvious critical darlings that have been making the festival rounds, like Tobias Lindholm's A War, Roy Andersson's A Pigeon Sat on a Branch Reflecting on Existence, and Miguel Gomes' Arabian Nights. However, we have seen a few from the list, so let's examine their chances in the grand scheme, shall we?
First up is Austria's submission, Goodnight Mommy, from directors Veronika Franz and Severin Fiala. This is hilarious. Not because Goodnight Mommy is funny (it isn't) or because it's bad (it most definitely isn't), but because it's a weird, gruesome horror movie filled with brutal violence and unpleasant, frequently unexplained menace. It's the exact kind of movie that doesn't get nominated for Oscars, just with subtitles. We don't know if Austria is deliberately trolling the Academy with this one, but we love it. Go see Goodnight Mommy.
Jaco Van Dormael's The Brand New Testament, Belgium's entry, feels like a dark horse. Although it played very well at this year's Fantastic Fest (where it took home the top comedy prize), it's a weird mix of quirky comedy, observational drama, and giddy blasphemy that will turn off as many people as it wins over. It's too odd, too unique, to win that Oscar gold.The Club, from Chilean director Pablo Larraín, is another tough sell, but for different reasons. The film follows a group of exiled pedophile priests who share a home and a quiet existence... until things go wrong. And it gets real unpleasant. It's a tough watch, but it's the kind of tough watch that could actually win over the Academy. They like to award punishing movies like this sometimes.
Speaking of punishing movies, László Nemes' Son of Saul is not just our early prediction for a guaranteed nomination – it's our early prediction for the big winner. First of all, it's a holocaust drama and as Kate Winslet once observed, those always attract attention at the Oscars. However, it's also a harrowing and technically astonishing film that transports the audience into the living hell of a concentration camp in ways never seen before. It's the kind of movie that makes you lose hope in humanity, but it's also one of the best movies you'll see in 2015.
Don't let the Norwegian language fool you: Roar Uthaug's The Wave is a disaster movie that's as silly and ridiculous as a Roland Emmerich movie, just on a smaller scale. It's a totally entertaining movie, but it's also goofy as all get-out. It's hard to imagine it coming close to an Oscar, but more power to Norway for submitting this thing.
Finally, that brings us to Hou Hsiao-hsien's The Assassin, the winner of the Best Director prize at this year's Cannes Film Festival and one of the most beautiful movies ever shot. Every frame is a painting and so on and so forth. And yet, for a movie about a trained killer being sent on a morally shady mission just to wring the final drops of compassion out of her soul, it's slow. Very slow. Like, "did someone pause the movie?" slow. It'll get a nomination for sure, but we're not sure about a victory.
Anyway, the nominees for the 88th annual Academy Awards will be announced on January 14, 2016. The ceremony itself will air on February 29, 2016. The full list of nominees can be found right under this sentence.
Afghanistan, "Utopia," Hassan Nazer, director
Albania, "Bota," Iris Elezi, Thomas Logoreci, directors
Algeria, "Twilight of Shadows," Mohamed Lakhdar Hamina, director
Argentina, "The Clan," Pablo Trapero, director
Australia, "Arrows of the Thunder Dragon," Greg Sneddon, director
Austria, "Goodnight Mommy," Veronika Franz, Severin Fiala, directors
Bangladesh, "Jalal's Story," Abu Shahed Emon, director
Belgium, "The Brand New Testament," Jaco Van Dormael, director
Bosnia and Herzegovina, "Our Everyday Story," Ines Tanovi?, director
Brazil, "The Second Mother," Anna Muylaert, director
Bulgaria, "The Judgment," Stephan Komandarev, director
Cambodia, "The Last Reel," Sotho Kulikar, director
Canada, "Félix and Meira," Maxime Giroux, director
Chile, "The Club," Pablo Larraín, director
China, "Go Away Mr. Tumor," Han Yan, director
Colombia, "Embrace of the Serpent," Ciro Guerra, director
Costa Rica, "Imprisoned," Esteban Ramírez, director
Croatia, "The High Sun," Dalibor Matani?, director
Czech Republic, "Home Care," Slavek Horak, director
Denmark, "A War," Tobias Lindholm, director
Dominican Republic, "Sand Dollars," Laura Amelia Guzmán, Israel Cárdenas, directors
Estonia, "1944," Elmo Nüganen, director
Ethiopia, "Lamb," Yared Zeleke, director
Finland, "The Fencer," Klaus Härö, director
France, "Mustang," Deniz Gamze Ergüven, director
Georgia, "Moira," Levan Tutberidze, director
Germany, "Labyrinth of Lies," Giulio Ricciarelli, director
Greece, "Xenia," Panos H. Koutras, director
Guatemala, "Ixcanul," Jayro Bustamante, director
Hong Kong, "To the Fore," Dante Lam, director
Hungary, "Son of Saul," László Nemes, director
Iceland, "Rams," Grímur Hákonarson, director
India, "Court," Chaitanya Tamhane, director
Iran, "Muhammad: The Messenger of God," Majid Majidi, director
Iraq, "Memories on Stone," Shawkat Amin Korki, director
Ireland, "Viva," Paddy Breathnach, director
Israel, "Baba Joon," Yuval Delshad, director
Italy, "Don't Be Bad," Claudio Caligari, director
Ivory Coast, "Run," Philippe Lacôte, director
Japan, "100 Yen Love," Masaharu Take, director
Jordan, "Theeb," Naji Abu Nowar, director
Kazakhstan, "Stranger," Yermek Tursunov, director
Kosovo, "Babai," Visar Morina, director
Kyrgyzstan, "Heavenly Nomadic," Mirlan Abdykalykov, director
Latvia, "Modris," Juris Kursietis, director
Lebanon, "Void," Naji Bechara, Jad Beyrouthy, Zeina Makki, Tarek Korkomaz, Christelle Ighniades, Maria Abdel Karim, Salim Haber, directors
Lithuania, "The Summer of Sangaile," Alanté Kavaïté, director
Luxembourg, "Baby (A)lone," Donato Rotunno, director
Macedonia, "Honey Night," Ivo Trajkov, director
Malaysia, "Men Who Save the World," Liew Seng Tat, director
Mexico, "600 Miles," Gabriel Ripstein, director
Montenegro, "You Carry Me," Ivona Juka, director
Morocco, "Aida," Driss Mrini, director
Nepal, "Talakjung vs Tulke," Basnet Nischal, director
Netherlands, "The Paradise Suite," Joost van Ginkel, director
Norway, "The Wave," Roar Uthaug, director
Pakistan, "Moor," Jami, director
Palestine, "The Wanted 18," Amer Shomali, Paul Cowan, directors
Paraguay, "Cloudy Times," Arami Ullón, director
Peru, "NN," Héctor Gálvez, director
Philippines, "Heneral Luna," Jerrold Tarog, director
Poland, "11 Minutes," Jerzy Skolimowski, director
Portugal, "Arabian Nights – Volume 2, The Desolate One," Miguel Gomes, director
Romania, "Aferim!" Radu Jude, director
Russia, "Sunstroke," Nikita Mikhalkov, director
Serbia, "Enclave," Goran Radovanovi?, director
Singapore, "7 Letters," Royston Tan, Kelvin Tong, Eric Khoo, Jack Neo, Tan Pin Pin, Boo Junfeng, K. Rajagopal, directors
Slovakia, "Goat," Ivan Ostrochovský, director
Slovenia, "The Tree," Sonja Prosenc, director
South Africa, "The Two of Us," Ernest Nkosi, director
South Korea, "The Throne," Lee Joon-ik, director
Spain, "Flowers," Jon Garaño, Jose Mari Goenaga, directors
Sweden, "A Pigeon Sat on a Branch Reflecting on Existence," Roy Andersson, director
Switzerland, "Iraqi Odyssey," Samir, director
Taiwan, "The Assassin," Hou Hsiao-hsien, director
Thailand, "How to Win at Checkers (Every Time)," Josh Kim, director
Turkey, "Sivas," Kaan Müjdeci, director
United Kingdom, "Under Milk Wood," Kevin Allen, director
Uruguay, "A Moonless Night," Germán Tejeira, director
Venezuela, "Gone with the River," Mario Crespo, director
Vietnam, "Jackpot," Dustin Nguyen, director