Exclusive: Alex Pardee's Radical Character Posters For 'The Final Girls'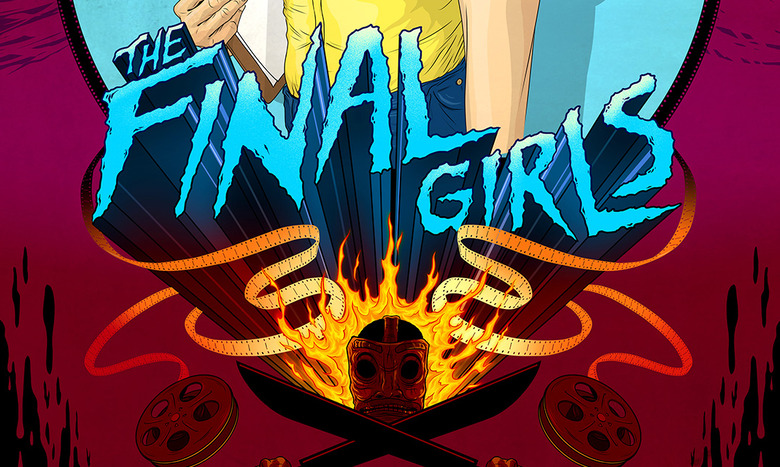 This weekend brings a wonderful meshing of horror and comedy with some real heart in the form of The Final Girls. The meta flick takes Taissa Farmiga and throws her into the world of the horror movie that her mother (Malin Akerman) made famous, making for a reunion that is simultaneously thrilling, touching and hilarious. It's like Last Action Hero, but way better.
And to help get the word out about this seriously incredible movie that will be in limited theaters and available on VOD starting Friday, October 9th, we've got an exclusive batch of character posters designed by Alex Pardee, the brilliant artist who has delivered awesome work for The World's End and Attack the Block previously.
Plus, if you need anymore convincing (other than the awesome trailer), director Todd Strauss-Schulson checked in with us to make sure you know that this movie is all about. And if that's not enough, we had a great interview with him back in August that you should definitely take the time to read. Otherwise, check out The Final Girls posters below!
Here's the batch of radical character posters designed by Alex Pardee:
And just for s***s and giggles, here's one that was made for Todd Strauss-Schulson: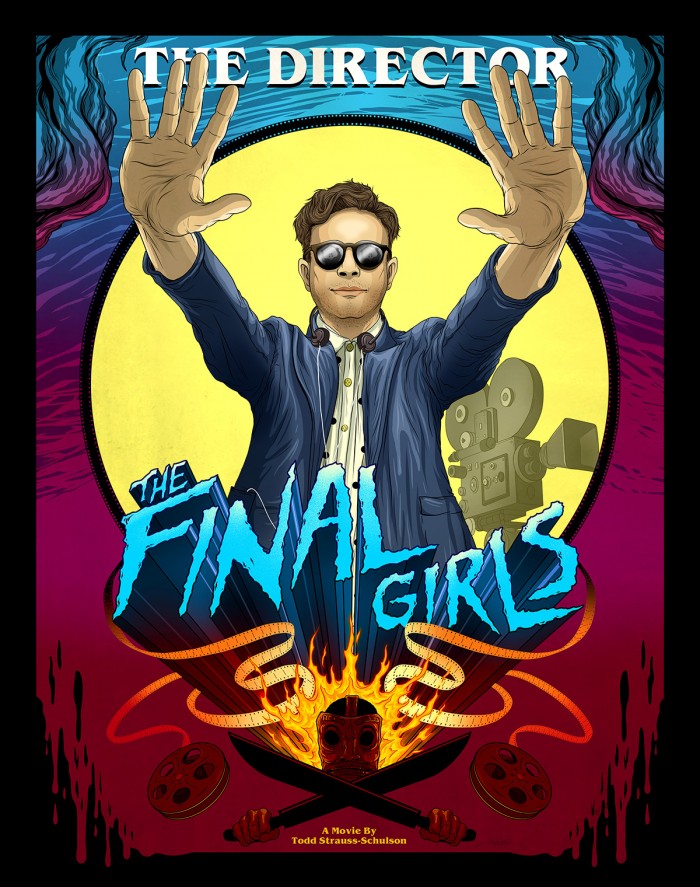 It's a shame these didn't end up being used in the marketing campaign for the movie, but it seems like the marketing push isn't as huge for this movie as it should be when it deserves a wide audience. Therefore, distributing a batch of character posters usually reserved for convincing people to see blockbsuters they're already going to see anyway just doesn't make sense apparently.
As for the movie itself, we'll let the director himself tell you why it's the perfect movie to see this Halloween season:
"The move is a crowd pleaser, has wonderful reviews, and it's most fun to be watched in a group! It's a date night horror film. It's the feel good film of Halloween! It's Back to the Future! It's ALL THE FEELINGS! Do you like funny stuff? We got that. Do you like scares? We got that too! How about some heart? A touch of sadness? Some empathy? A connection to your fellow human? WE GOT THAT TOO! The Final Girls is cool, it's beautiful, it's weird, and it's fucking badass!"
You might think that's bias just because he's the filmmaker, but we can tell you that this is a movie you're going to love. It really is  a blast, and it has quite the potent emotional core. Plus, it's got that nostalgic feel without being a blatant reboot or remake. It's truly an original work that will make for a bright future for Strauss-Schulson as a filmmaker.
Now the only problem is that it's in limited release in theaters, but Strauss-Schulson says, "If you can see it in a theater, DO IT! And bring a group. It's the way the movie was meant to be seen, in a big group with all your friends, laughing and screaming and crying together!. IT'S HEALTHY FOR YOU!" Here's all the theaters playing The Final Girls in the US:
The film is also playing in Canada at Carlton Cinema in Toronto, Mayfair Theatre in Ottawa, Rio Theatre in Vancouver and Princess Theatre in Waterloo. For everyone else, the director says:
"If there is no theater near you playing it because sometimes Hollywood is a broken corporate dinosaur, get it on VOD and invite all your friends over and watch it in a gang! Post a pic of your posse before and after you watch the movie and hashtag #FinalGirls to spread the word if you dig it. I just wanted to make the kinda movie I would have seen in high school (as a movie loving dorkazoid). I hope you like it–we all worked relentlessly hard on this thing. Happy Halloweeeeeeen!"
I don't know what else needs to be said in order to make sure people see this movie, so just get out there and see it. The Final Girls is out tomorrow, October 9th, in limited theaters and on VOD. Also, if you happen to be in New York City, there's midnight screenings on October 16th and October 17th at the IFC Center.
When Max (Taissa Farmiga) and her friends reluctantly attend a screening of "Camp Bloodbath," an infamous '80s cult horror film that starred Max's late mother (Malin Akerman), they are accidentally sucked into the silver screen. They soon realize they're trapped inside the movie and must team up with the horny, regan-era idiot "Camp Bloodbath" counselors — including Max's mom as the shy scream queen — to battle the film's machete-wielding killer, Billy Murphy. Face to face with her mother for the first time in years, Max has a second chance not only to see her, but to save her, and with the help of her friends, get back home before Billy kills them all. Also starring Adam DeVine, Thomas Middleditch, Alia Shawkat, Angela Trimbur, with Alexander Ludwig and Nina Dobrev.
If you want to keep up on what Todd Strauss-Schulson has in store for the future, follow him on Twitter @StraussSchulson or check out his website Ulterior Productions. And if you like Alex Pardee's work, you can follow him on Twitter too. And don't forget to see The Final Girls as soon as possible!