Cursed Genius Terry Gilliam Is Working On A 'Time Bandits' TV Series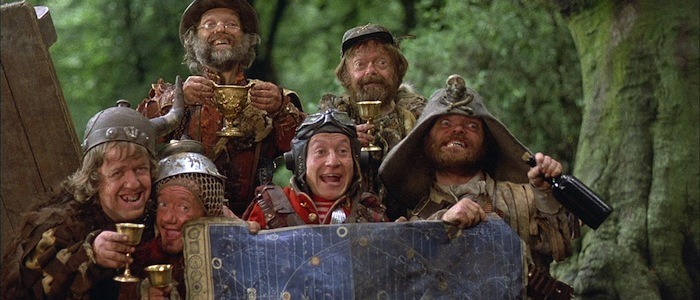 Terry Gilliam is a cinematic genius, but he's also a cinematic genius who wronged a sorcerer in a past life or something. His battles with movie studios are the stuff of legend. The movies that have literally fallen apart around him are too many to count. And then the internet went and falsely reported his death. If Gilliam's own movies didn't present a self-awareness about the absurdity of existence and cruel unfairness of life, it would be easy to fear for his sanity.
Could his salvation come via the small screen? We already knew he had a deal in place with Amazon, but now Gilliam has revealed that he's working on a TV version of his 1981 comedic fantasy Time Bandits. Maybe things are finally looking up for the most cursed of filmmakers.
Check out Gilliam's own comment on the Time Bandits TV series after the jump.
While participating in an online Q&A over at The Guardian to promote his new autobiography, Gilliamesque: A Pre-posthumous Memoir, Gilliam was asked about his future in television. After all, he recently signed a deal with Amazon that would allow him to resurrect projects like The Man Who Killed Don Quixote and The Defective Detective, both of which he's struggled to bring to the screen for years. And while Gilliam's answer mostly dwells on The Defective Detective (whose script is being expanded into a six-hour series), he does open with that Time Bandits news:
We are involved in two possibilities — one, a TV series based on Time Bandits, another based on a script by Richard LaGravanese and I wrote after Fisher King, called The Defective Detective. We're currently adapting a two hour film into a six hour series. It's about a middle aged New York cop who was once a hero who has grown fat and cynical and is in the middle of a breakdown, ending up in a child's fantasy world where the rules of the mean streets of New York no longer apply. The best way to kill a dragon is no longer a gun, but a tree branch you think is a sword.
Wait. What? Tell us more about that Time Bandits show, sir!
Gilliam has been talking up The Defective Detective for a long time now and that description (while certainly very interesting) hasn't changed much. A Time Bandits TV series, though, is from completely out of the blue. The last time we heard anything about something being done with Time Bandits, it was 2011 and phrases like "big-screen kids action franchise" were being thrown around. We don't know anything about this new version and it already sounds better.
For those unfamiliar with the original 1981 film, Time Bandits follows a group of little people who are employed by the "Supreme Being" to repair holes in the spacetime continuum. Tiring of their work, they steal the map that charts all of time and space, embarking on a quest to journey throughout history, stealing stuff. Naturally, a normal kid gets pulled along on the journey. Even more naturally, everything goes wrong and they must confront the literal embodiment of evil. It's all very silly and whimsical, containing all of the slapstick and satire of Gilliam's work with Monty Python while hinting at the dark and malicious themes that would arise in films like Brazil. If Gilliam thinks it could be a TV series, we trust his judgment.
The question now is whether or not Time Bandits is part of the Amazon deal. After all, Gilliam says he's working on a top-secret project for the BBC and we wonder if the network that makes Doctor Who could be interested in another time-hopping adventure series. You can hear Gilliam talk about this unidentified project in the interview, right after he exposes himself as a massive Breaking Bad fan.
Combinations of bad timing and money and fate have robbed us of so many Terry Gilliam projects. Whoever can give his career a second wind, whether it be Amazon or BBC or someone else, is a hero. Never stop fighting, Mr. Gilliam. We are on your side.