Jack Black Performs A 'Goosebumps' Rap: "The Bumps Gonna Goose Ya"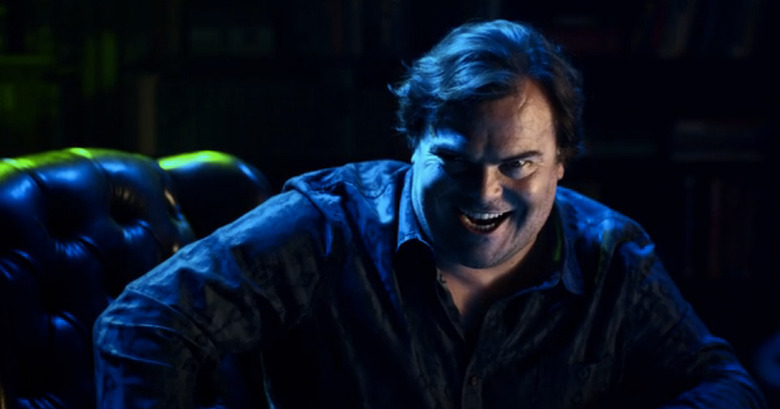 Believe it or not, there was a time when movies were accompanied by blatant crossover theme songs, especially from rap artists in the 1990s, with music videos set within the world of the movie itself. Thankfully, that tradition has been revived today.
Nerdist rounded up Jack Black to perform with their very own Malik Forte, aka MF Bumps, to perform a 90s inspired Goosebumps rap, and it's just as glorious as you would imagine. Watch it below!
Here's the Goosebumps rap, "The Bumps Gonna Goose Ya," from Nerdist:
Fans of Goosebumps may recognize the backtrack, since it's a remixed version of the theme song from the Goosebumps television show from the '90s, so this music video is just full of nostalgia. And if you couldn't tell that a big chunk of the lyrics to the song feature a bunch of Goosebumps titles, from Monster Blood to Say Cheese and Die!, then what are you still doing here?
The rest of the lyrics describe the plot to Goosebumps, where the books of R.L. Stine (played by Jack Black) come to life, unleashing the horrors and monsters inside each of his stories. I'm not gonna lie, I wish this was a real song on the soundtrack for Goosebumps. It really would have been a nice touch for a song like this to play over the credits after the movie is over.
Anyway, early buzz on Goosebumps is that it's a hell of a lot of fun, even for people who aren't fans of the popular book series from the 1990s. It's a simple premise that just takes Goosebumps and gives it the Jumanji treatment, but that's not necessarily a bad thing. I'll certainly be checking it out when it arrives on October 16th next week.
Are you gonna let the bumps goose ya?