Eddie Murphy And Brian Grazer Are Making A Movie For Netflix [UPDATED]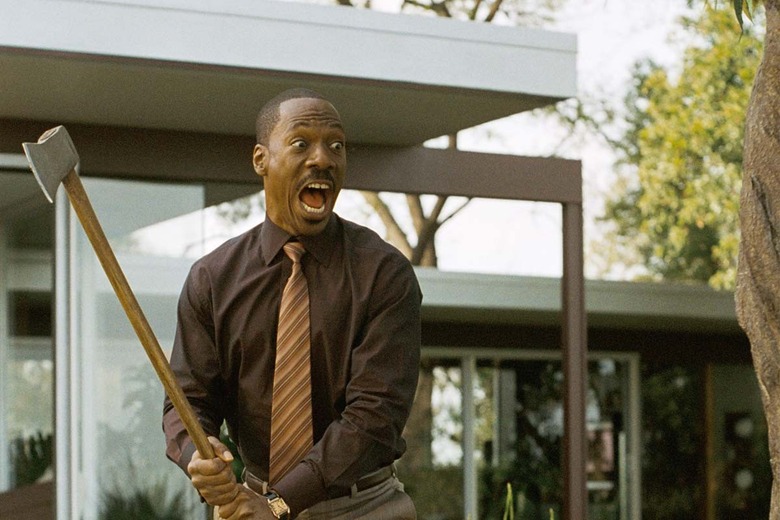 Eddie Murphy gave us some of the best-loved comedies of the '80s, including Beverly Hills Cop and Coming to America, and for that we'll always have a soft spot for him. But the past several years have been a rough time for Eddie Murphy fans. He hasn't been seen onscreen since 2012's A Thousand Words, and before that he was mostly starring in stuff like Imagine That and Meet Dave.
Maybe his next project will be the one to turn things around. Murphy is teaming with Brian Grazer for what the producer calls a "raw," "tour-de-force" project, to be distributed by Netflix. Read about the Eddie Murphy Netflix project after the jump.
Update: A source who spoke with Deadline cautions that the project is "too premature to announce at this point in time; that details weren't even locked down from a project or contract standpoint." Original story follows.
Grazer spilled the beans about the Eddie Murphy Netflix project in a chat with Bloomberg. "I'm going to do a movie with Netflix," he said. "I'm going to do a tour-de-force movie that's cinema verite with Eddie Murphy being as raw as he can be." Grazer didn't reveal any more details, but it's enough to pique our curiosity.
Murphy and Grazer have worked together several times before, notably on Tower Heist, Bowfinger, the Nutty Professor films, and the animated series The PJs. Grazer's other credits include films like Apollo 13, A Beautiful Mind, and Frost / Nixon, and shows like 24, Friday Night Lights, and Arrested Development.
Indeed, it's because of that last one that Grazer already has a strong relationship with Netflix. The first three seasons of Arrested Development were a hit on the Netflix streaming catalogue for years, and then the company picked up the show for a fourth season that premiered in 2013. Plans for a fifth season of Arrested Development are underway, with shooting scheduled to begin in early 2016.
"The way they govern their creativity is exceptional," said Glazer of Netflix. "They believe that if they like the idea and the foundational elements, you're just off to do what you believe in, and they trust it. And it's been working for them."
Recently Netflix has been ramping up its original movie slate, picking up everything from Cary Fukunaga's Beasts of No Nation, out later this month, to Adam Sandler's Ridiculous 6. (You really can't get further apart than that.) A "raw," "tour-de-force" Eddie Murphy project should fit right in.
Murphy recently wrapped the drama Henry Joseph Church, about the friendship between a little girl and the family cook (Murphy). A few weeks ago he was confirmed to play Richard Pryor's father in a biopic directed by Lee Daniels and starring Mike Epps. In addition, he's attached to long-gestating sequels for Twins and Beverly Hills Cop.