Behold The Stunning Animation Of 'The Good Dinosaur' In High Resolution Images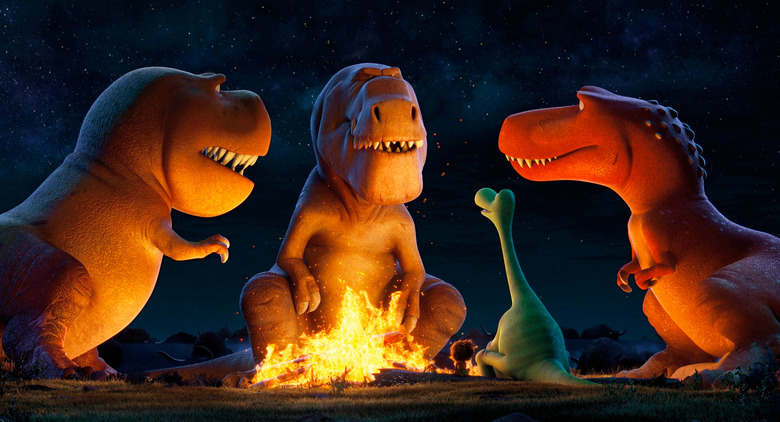 A new trailer for The Good Dinosaur just arrived this week, giving us an even better look at Pixar Animation's latest original tale, focusing on a lost dinosaur named Arlo and his feral young human friend he meets along the way. It teases exactly the kind of high quality storytelling and animation we've come to expect from Pixar.
And now you can marvel at just how gorgeous the animation truly is as some high resolution The Good Dinosaur images have surfaced online. Pixar has certainly come a long way since Toy Story hit the big screen 20 years ago.
Here's the batch of high resolution The Good Dinosaur images (via Stitch Kingdom):
Seriously, go zoom in on those pictures to see how stunning the textures on these stills are. The skin on the dinosaurs, the hair on Spot and just everything looks positively incredible. If there weren't cartoonish dinosaurs present in a lot of those wide shots, I'm betting people wouldn't be able to tell those landscapes were computer animated.
And if you take a look at that recently released trailer, you'd feel the same way after seeing some stunning shots of nature in action too. Plus, you also get to hear the dinosaurs talk, including newcomer Raymond Ochoa as Arlo, Jeffrey Wright and Frances McDormand as his parents, Sam Elliott as a t-rex named Butch and a couple more. But it looks like that the dinosaur that appears to be a Styracosaurus, the one who helps Arlo name Spot, may be a scene stealer like Bing Bong from Inside Out earlier this summer.
The rest of the voice cast includes Steve Zahn, AJ Buckley, Anna Paquin, Marcus Scribner and Jack Bright in the feature directed by Pixar's Partly Cloudy short helmer Peter Sohn.
Just going by the trailer, I wouldn't be surprised if Pixar ended up with two movies in the Best Animated feature category, but we're getting ahead of ourselves. The Good Dinosaur arrives on November 25th.
The Good Dinosaur asks the question: What if the asteroid that forever changed life on Earth missed the planet completely and giant dinosaurs never became extinct?  Pixar Animation Studios takes you on an epic journey into the world of dinosaurs where an Apatosaurus named Arlo (voice of Raymond Ochoa) makes an unlikely human friend. While traveling through a harsh and mysterious landscape, Arlo learns the power of confronting his fears and discovers what he is truly capable of.