'Danger Mouse' Movie In The Works At Sony Pictures Animation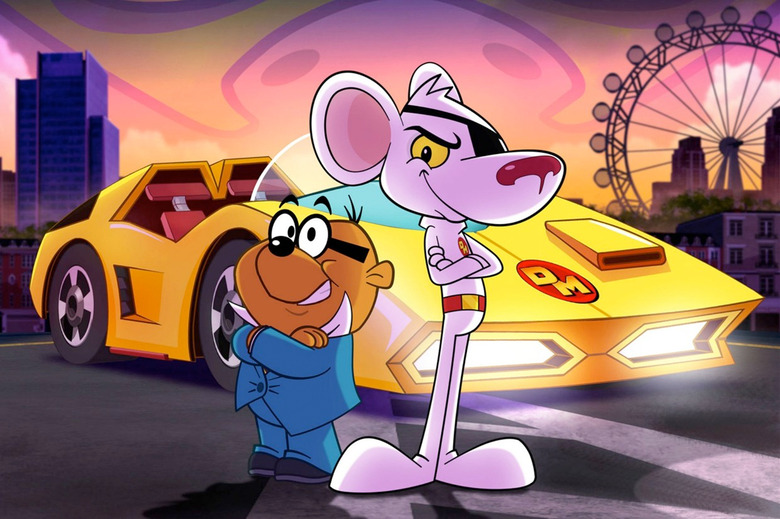 UPDATE: A representative from Sony Pictures Animation has reached out to say that the Tracking Board's report on Danger Mouse is "inaccurate and unfounded" and there is no deal in place for a movie at this time. The original story follows.
Our friends across the pond just recently got to see the reboot of the 80s animated series Danger Mouse, which originated in the United Kingdom in the 80s, and it sounds like a feature film adaptation isn't far behind.
A Danger Mouse movie is now set up at StudioCanal and Sony Pictures Animation with Neal Moritz at Original Film and Fremantle Media behind it. However, the movie may not have any ties to the newly rebooted animated series.
Tracking Board has news on the Danger Mouse movie, saying that the plot is kept under wraps. However, they note that it's supposed to "offer clues to the origins of the world's greatest secret agent." If that's true, then there's a chance this could be completely independent of the new animated series that just debuted on CBBC last month (seen above) and will be coming to Netflix in spring of 2016 in the United States.
For those who don't know, Danger Mouse follows a rodent secret agent living underneath MI6 headquarters. He's an agent so secret that his codename has a codename. The original series was a parody of spy fiction such as Danger Man and James Bond, following Danger Mouse and his hamster sidekick Ernest Penfold as they solve mysteries, fight crime, thwart villains and do all the stuff that secret agents do.
The original series created by Brian Cosgrove and Mark Hall originally ran from 1981 to 1992, so it was quite the success, and it went on to become the first British cartoon to air on Nickelodeon in the United States. It may not be quite as a beloved, nostalgic cartoon in the US as those that aired on Nickelodeon and are coming back on The Splat, but it still has quite a following.
As for the recent reboot, Cosgrove serves as consultant on the series with a voice cast that includes Alexander Armstrong as Danger Mouse, Kevin Eldon as Danger Mouse's trusty sidekick Penfold, Stephen Fry as Colonel K and Dave Lamb as the narrator. John Oliver also came on board as the mad scientist wolf Doctor Augustus P. Crumhorn III while Lena Headey plays US Secret Agent Jeopardy Mouse. But again, it's unclear if any of those cast members will be part of the film adaptation.
However, it may be awhile before we see any progress on the film as producers are on the hunt for a British writer who is very familiar with Danger Mouse so as to give it the most proper film adaptation. No doubt Sony hopes this will kick off a new franchise for them, but it remains to be seen whether audiences in the United States will be as interested as those in the United Kingdom.
Anyone out there want to see a Danger Mouse movie?