Apple Head Tim Cook Has Seen 'Steve Jobs,' Widowed Wife Has Not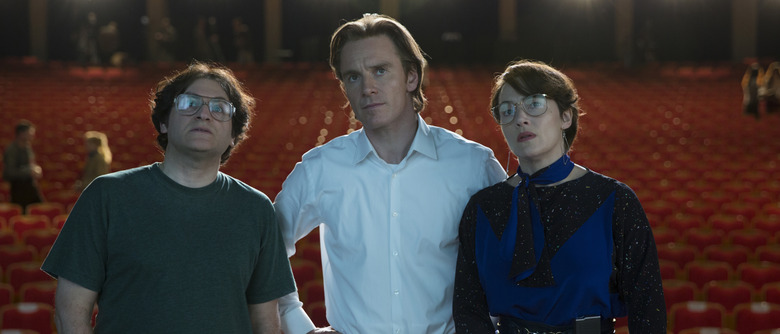 Biopics are a tricky business. If you make it with the full cooperation of the subject, you risk making a hagiography that glosses over every flaw and rough edge. If you make it without the support of the subject or their family, you risk dragging someone through the mud. So it's not surprising that Apple CEO Tim Cook hasn't been shy about expressing his disapproval over Danny Boyle's upcoming Steve Jobs. But will that change now that he's apparently seen the movie?
Read the Tim Cook Steve Jobs movie comments after the jump.
Cook's public reservations about the film began when he appeared on The Late Show With Stephen Colbert a few weeks ago, where he made it clear that the wave of unofficial Steve Jobs biopics and documentaries touched a nerve:
I haven't seen them, but the Steve I knew was an amazing human being. He's someone that you wanted to do your best work [for]. He invented things that I think other people could not. He solved problems other people could not. He had this uncanny ability to see around the corner and to describe a future, not an evolutionary future but a revolutionary future, and he was a joy to work with. I love him dearly and I miss him everyday.
I think that a lot of people are trying to be opportunistic, and I hate this; it's not a great part of our world.
And that brings us to right now. Steve Jobs screenwriter Aaron Sorkin appeared on The Today Show (via The Hollywood Reporter) this morning, where he was directly asked about Cook's unhappy outlook on the (apparently very good) biopic. Sorkin, who netted an Academy Award for chronicling another tech genius in The Social Network, revealed that Apple's head honcho has actually seen the movie now:
Tim Cook — at the time he made that statement, at the time he took umbrage, he hadn't seen the movie. The studio since set up a screening for him and he hasn't said anything since.
Take from that what you will. Sorkin sees Cook's silence as approval, that he actually sees what Sorkin, Boyle and star Michael Fassbender set out to accomplish and appreciates it. However, Cook's silence could just as easily be him not wanting to give the movie any more free publicity. In all honesty, we probably won't get a clear answer on any of this until long after the dust settles and everyone feels free to talk openly. And who knows? That may be never.
Sorkin also revealed that Steve Jobs' widow, Laurene Powell Jobs, who reportedly tried to block the project from getting made in the first place, has yet to see actually see the film:
Mrs. Jobs hasn't seen the movie. When she does, if she does, I think she'll be pleasantly surprised. I don't think it's what she expects it to be.
Certainly with Mrs. Jobs — and yesterday was the anniversary of Steve's death, it was four years — with Mrs. Jobs, with Tim Cook who was such a good friend, I don't begrudge them wanting to protect a good friend who isn't here to defend himself but again, they haven't seen the movie and I think they will be surprised that it's not the thing they're scared of.
Other people close to Jobs have been more positive about the whole thing, with Apple co-founder Steve Wozniak stepping up and offering his support for the film.
In any case, Steve Jobs certainly looks like much better film than most of its peers from a pure technical standpoint. There's no way it can be cheaper or more offensive to the Jobs family than Jobs, which came and went in 2013. Seriously. Watch both trailers below. We're sorry, Ashton Kutcher. We know you never set out to be directly compared to Michael Fassbender, but them's the breaks.
Anyway, you'll be able to make up your own mind when Steve Jobs opens on October 23, 2015.