'The Hunger Games: Mockingjay - Part 2' Trailer: It's Time To Stop Killing For President Snow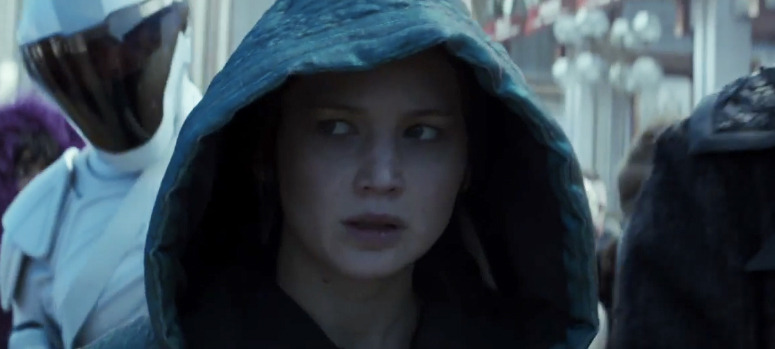 The previously released trailer for The Hunger Games: Mockginjay – Part 2 did a little more than hint at a big spoiler for the franchise's finale, at least for those who haven't read the young adult franchise on which the movies are based. Thankfully, the latest Mockingjay Part 2 trailer keeps the spoilers to a minimum, and shows off plenty of the action to come in the conclusion of the blockbuster film series.
Here's the new trailer for The Hunger Games: Mockingjay – Part 2 from Lionsgate:
Jennifer Lawrence provides yet another inspiring speech to those revolting against the Capitol, some of which we've heard before in the previous trailers, as she prepares to descend upon the city that has been riddled with traps. We get just a tease of some of the deadly obstacles facing the rebels, including more shots of the gruesome creatures known as Muttations.
One of the more intriguing parts is a hint at some kind of conflict between Katniss and a faction of rebels. Perhaps not everyone is one the same page when it comes to the revolution of the Mockingjay.
Sadly, we don't get to see anymore of Gwendoline Christie, who is getting ready to have a huge end to 2015 with roles in two of the year's biggest franchises. Plus, shots of Philip Seymour Hoffman are bittersweet knowing this will be the last performance we see from the actor. But hopefully the finale will send him off with a bang.
Check out the final poster for The Hunger Games: Mockingjay – Part 2 right here, and if you're not worried about spoilers or you've already read the book, check out the previously released trailer. Francis Lawrence directs the finale which also stars Josh Hutcherson, Liam Hemsworth, Woody Harrelson, Julianne Moore, Donald Sutherland, Sam Claflin, Jena Malone, Natalie Dormer and many more.
The blockbuster Hunger Games franchise has taken audiences by storm around the world, grossing more than $2.2 billion at the global box office. The Hunger Games: Mockingjay – Part 2 now brings the franchise to its powerful final chapter in which Katniss Everdeen [Jennifer Lawrence] realizes the stakes are no longer just for survival – they are for the future.
With the nation of Panem in a full scale war, Katniss confronts President Snow [Donald Sutherland] in the final showdown. Teamed with a group of her closest friends – including Gale [Liam Hemsworth], Finnick [Sam Claflin], and Peeta [Josh Hutcherson] – Katniss goes off on a mission with the unit from District 13 as they risk their lives to liberate the citizens of Panem, and stage an assassination attempt on President Snow who has become increasingly obsessed with destroying her. The mortal traps, enemies, and moral choices that await Katniss will challenge her more than any arena she faced in The Hunger Games.
The Hunger Games: Mockingjay – Part 2 arrives on November 20th.