Showtime Releases A New 'Twin Peaks' Trailer As Peter Sarsgaard Joins The Cast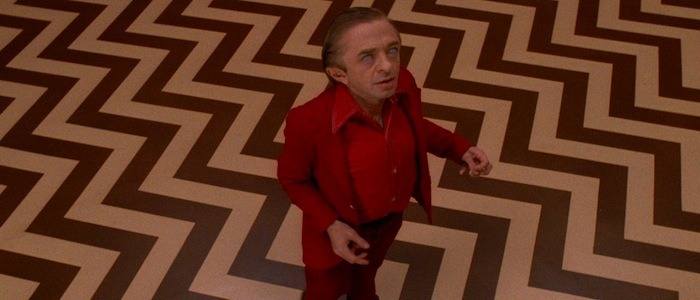 The new Twin Peaks trailer is a teaser in just about every sense of the word. Consisting entirely of footage from the original series, it is nothing more than a reminder that yes, Twin Peaks is still coming back and yes, the original series really was that intoxicating and strange. However, we do know that Showtime's revival series won't be a simple retread of past glories. After all, new actors are joining the show at a steady pace, with Peter Sarsgaard being the latest actor to sign up.
Watch the new Twin Peaks trailer and the learn the details of Sarsgaard's casting after the jump!
The teaser itself centers around Michael J. Anderson's "Man From Another Place," the backwards-talking inhabitant of the Black Lodge who periodically popped up to help (or possibly hinder) Kyle MacLachlan's Agent Dale Cooper. The Man's true identity and motives remained shrouded in mystery throughout the original series and he only grew more complicated after Twin Peaks: Fire Walk With Me. This teaser feels like confirmation that series masterminds David Lynch and Mark Frost aren't done with this character yet and that the third season may finally give fans some answers... or maybe more questions. Do you really think those two are going to make it easy on anyone?
Anderson's involvement in the series has not been confirmed (as of right now, MacLachlan is the only original cast member whose involvement has been made public), but surely this teaser is a reminder. Remember the weird little guy who appeared in dreams and talked entirely in riddles? Just checking.
And while Anderson has not been confirmed to return, TV Line reports that The Killing and The Slap star Peter Sarsgaard has reportedly joined the series in a recurring role. There are no other available details and Showtime has not commented on the story, so take this with as much salt as you care to. All we can say is that Sarsgaard is a good fit for the world of Twin Peaks. He's the kind of guy who'd effectively deadpan his way through an entire cavalcade of weirdness.
In any case, we can add Sarsgaard to the list of rumored new cast members, which already includes the delightful Amanda Seyfried, Brother and Sisters star Balthazar Getty, and Prison Break alum Robert Knepper.
Hearing this casting news and seeing an actual trailer premiere on Showtime (in conjunction with the season premiere of Homeland, even) must come as a relief for Twin Peaks fans. After some very public negotiating almost forced Lynch to exit the series and take many of the original cast members with him, the network ultimately bowed to his demands. Now, we're getting a third season directed entirely by Lynch, which is just unreal. After all, he departed the original series during its second season and most fans agree that's when everything went off the rails. Him returning is an exciting prospect, especially since he hasn't sat in the director's chair on a feature film since 2006's Inland Empire.
Twin Peaks season 3 is currently filming and will air in 2017. Every episode is scripted by Lynch and Frost and even though few have been announced, many original cast members are expected to return. We should be hearing details soon. Maybe. Eventually. This is Twin Peaks, after all. The rules of the real world don't apply here.