Disneyland Pass Prices Raised Over 30%, Considering Demand Ticket Pricing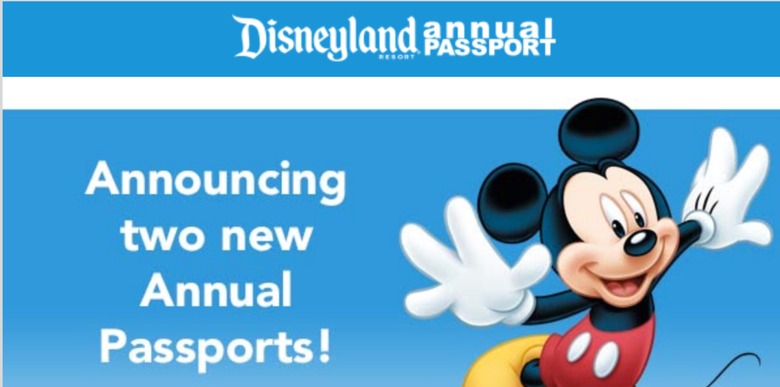 Over the weekend, Disney surprised their annual pass holders by announcing they were changing the options for annual passes for both Disneyland and Disney World with some of the passes seeing an over 30% price increase.  Meanwhile, the company is considering demand ticket pricing which would see higher ticket prices on busier days. Hit the jump to read about the Disneyland pass price increase and more.
Here is a look at the Disneyland Annual pass changes:
The Premier pass, which includes admission into both Disneyland in California and Walt Disney World in Florida, as well as parking and Digital PhotoPassPlus downloads has been raised to $1,439 from $1,099, a 31% increase.
Disney Signature Plus Pass is new, and basically a replacement of the former Premium pass, allowing unlimited Disneyland and Disney California Adventure admission (no blockout dates) with parking and Digital PhotoPassPlus downloads for $1049, a 35% increase compared to the comparable former Premium pass.
Disney Signature Pass is also new, and includes unlimited admission to Disneyland and Disney California Adventure admission except for a two week block during the holidays (December: 19th through January 2nd). The pass sells for $849, is $70 more than the former Premium pass which offered no blockout dates. Parking and Digital PhotoPassPlus downloads are also included.
The Deluxe Pass went from $549 to $599 (up 9%) and the Southern California Select pass went from $299 to $329 (up 10%).
To give you an idea how high these prices have gotten, the Premium pass which would allow you no blockout dates to both Disneyland Resort parks was only $349 a decade ago (the comparable Disney Signature Plus Pass is $1049 just ten years later). The SoCal Select Pass for local residents cost only $119, compared to almost three times the amount today.
Pass increases are nothing new for the Mouse House, but Annual Passholders are angry that the extreme increase of the top passes, especially at a time when so many attractions in the park will be closing for Star Wars Land construction. Pass increases usually come at a time when new attractions, rides and experiences are getting ready to launch, not at a time when many of the options that have been available for many years are being shut down.
While it appears that most of the lower passes are seeing a 10% price increase, the big news is at the top of the options with Disney now basically charging a $250 premium (or $300 more than last week) for Annual pass holders who want to visit the park during the last two weeks of December (this includes Christmas and New Years, two times I personally used to frequent the park).
The Holiday times in Disneyland have always been very crowded, and Disney is clearly trying to combat the crowds with higher admission prices for both annual pass holders and the regular ticket-buying public. The Wall Street Journal has learned that "for the first time in the 60 years since Disneyland opened, Walt Disney Co. is considering switching to demand-based pricing at its domestic parks, where tickets would cost less or provide added benefits on slower days and cost extra or come with more restrictions on dates when there tend to be too many people." Disneyland Paris has offered tiered pricing since last year, currently ranging from $64 for an adult ticket during "low season" to $94 for busier times.
I can't even imagine what the ticket and annual pass prices will be raised to once Disneyland opens Star Wars Land. It seems like the park is quickly becoming an unaffordable endeavor for both locals and tourists. Universal Studios Hollywood, which is much smaller, was offering 2015 annual passes with no blackout dates for $159, and Knotts Berry Farm has a no blockout date pass for $141. The Universal prices will probably increase next year with the launch of Hollywood's version of The Wizarding World of Harry Potter, but even if its increased to $199, thats a huge deal compared to Disneyland's $1049 pass.
The annual pass prices at Walt Disney World are also being replaced and seeing an increase: Disney is introducing "Silver," "Gold," "Platinum" and "Platinum Plus" passes, replacing the old Florida Seasonal, Annual, Premium and Premium Plus Annual Passes.