'Saturday Night Live' Review: Season 41, Episode 1 - Hosted By Miley Cyrus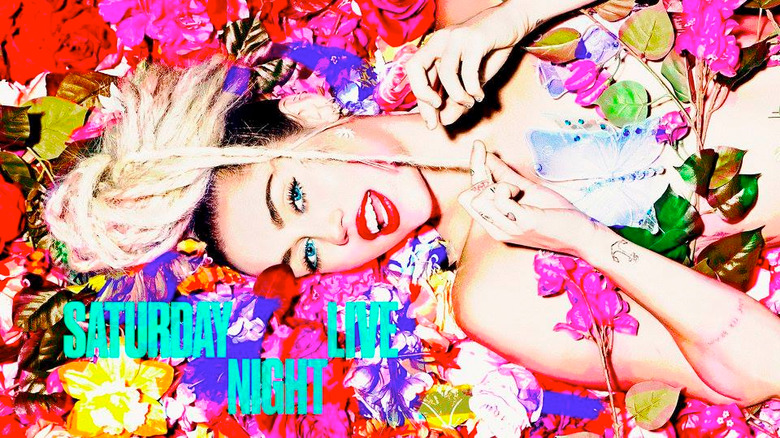 Last night brought the season premiere of Saturday Night Live, bringing the iconic late night sketch comedy show into its 41st season. Coming back from the summer break is always hard for a cast and crew that puts together the show in just one week (which is always remarkable, whether it's a particularly good episode or not), and last night was no exception.
Miley Cyrus returned to host the show and pulled double duty as musical guest, bringing her over-the-top, controversial, edgy antics along with her, though at this point it feels more manufactured than genuine. Thankfully, they didn't rely on Miley Cyrus as a wild personality for too much of the show, but that doesn't mean this season premiere was all that great.
Check out my full review of the Miley Cyrus Saturday Night Live episode below!
For each review, I'll break down the sketches by The Best, The Average and The Worst of the night, with a separate section for Weekend Update. I'll also evaluate how well the host performed and name an MVP of the night before wrapping it up. So let's run through last night's sketches.
The Best
Miley Wedding Tape – Kyle Mooney has definitely taken Andy Samberg's place as the resident digital short creator (writer and former featured cast member Mike O'Brien also delivers some of the better pre-recorded segments as well), and this one is just the right amount of weird. It's Mooney's earnest attitude that makes this work so well, not to mention the surprising use of time travel (because Miley is a time-lord obviously), and he will be missed now that he's dead.
Katz's Deli – This sketch made me wonder just how many people have recreate the iconic orgasm scene from When Harry Met Sally, but I digress. Leslie Jones brought this one home by doing a great turn from being the calm straight [wo]man to having a full on simulated orgasm three times in the deli. I wouldn't mind seeing this character recur by recreating other movie scenes that take a far too real turn just like this one.
Hillary Clinton Bar Talk – This one has some hiccups simply because there were some technical issues with camera angles and the real Hillary Clinton isn't a trained comedy performer. But Clinton always seems a little more genuine when she makes SNL appearances than she does on the campaign trail. She pokes some fun at herself in one of the more clever ways that a real politician has been used on SNL and delivers a solid blow to Donald Trump (one of many that night). Plus, it's always nice to have Darrell Hammond pop up as Bill Clinton.
The Average
The Squad – The idea of the world coming to a strange end because of the popularity of Taylor Swift is an interesting concept, but I don't think it was executed nearly as well as it could have been. Adding "Directed by Alfonso Cuaron" was a nice touch to this fake trailer as were the comments about Taylor Swift's use of models, actors and more, essentially as living props on her tour. But I can't help but feel like this was missing something to make it a better sketch. I was still mildly amused.
50s Dance – There's a part of me that wishes this sketch was saved for a time when someone like Miley Cyrus wasn't the host. The outrageous profile Cyrus actually seems to weaken the fun concept of an edgy, rapping high school girl corrupting this innocent 50s musical. But at least we got to see Kenan Thompson do some of that hilarious yelling that makes every sketch better. Plus, what an SNL debut for new featured player Jon Rudnitsky, getting frosting licked off his face and ear by the wandering tongue of Hannah Montana.
The Worst
American Voices – Not unlike the Hillary Clinton bar sketch, there were some technical timing issues on this one that made the pacing feel off, but the core concept was a very amusing one. Leslie Jones almost saved it from being a disaster, but the biggest problem was the abrupt end, that was made even more odd by the fact that it ran straight into the beginning of the Miley Wedding Tape. It was rather jarring and really ruined what good Jones did as the main character. Kudos to Kenan Thompson for doing a solid Jamie Foxx as Ray Charles kind of impression.
Abilify for Candidates – This one was just too easy. A prescription drug that makes people realize they aren't viable candidates for president is a political cartoon in the newspaper at best, and it was stretched far too long without any value added.
Donald and Melania Trump – Well, at least Taran Killam has a solid Donald Trump impression, even if it's not quite as good as Darrell Hammond's from years ago. He has some weird timing issues when going back to his resting Trump face, but it's just going to get better, because Trump will be a target for SNL fodder as long as he's in the running for President. But the problem is that this cold open just didn't do anything funnier or sillier than what the real Trump does, and that could be an ongoing challenge for the writers.
Millenials – Here's a perfect example of a solid idea for a sketch just executed poorly. Sure there are some great jabs at millennials taken, but this just feels like a list of terrible traits of the young generation acted out as opposed to fitting in with the concept of a new TV show. There was a better way to put this material out there.
Weekend Update
Michael Che disapproving several of Colin Jost's jokes is about all the interaction we get between the two Weekend Update anchors, and it would be nice to get a little more of that throughout the entire segment. Sometimes they're on, and sometimes they're not. This was somewhere in between, but since it's the first episode back, we'll let it slide.
Pope Francis – Thankfully Kyle Mooney delivered the best sketch of the night later in the evening, otherwise he would have had a rough night thanks to this complete misfire. The idea of a pope really trying to be hip and cool is funny, but it's supremely difficult to understand what Mooney is saying with that intentionally bad Italian accent, and you can see that the audience was just not into this segment. But we probably won't have to hear about the pope again for awhile, so that's good.
Pete Davidson's Trumpdate – Pete Davidson is the youngest cast member on SNL, but he's got quite the gift for comedy. He's a genuine talent, and offers a unique perspective on a variety of topics. However, ever since he's joined the cast, he's been relied upon quite a bit for these kind of segments when Weekend Update should be using them a little more sparingly. Pete Davidson is good at this kind of thing, but it just doesn't need to happen so often.
Leslie Jones on Texting Etiquette – Everything I said about Pete Davidson's segment above applies to Leslie Jones as well. Her energetic commentary is funny, though it can be hit or miss, and it's relied upon a little too much. I'd much rather see more headline riffing or some interaction between Colin Jost and Michael Che so as to not over-utilize Jones. But I did rather enjoy her "I ain't afraid of no Jost" line.
The Host
Miley Cyrus has hosted a couple times before, and while she's charismatic and better than some actresses about reading cue cards and fitting into a variety of characters, her larger than life profile sometimes gets in the way of her ability to disappear into the show and just be funny. Sometimes it's also a crutch for the writers to use someone like Miley and her edginess to help add some flare to a sketch (like 50s Dance), and that's not good. Plus, when you have a monologue (above) that just requires Cyrus to sing while everyone else is funny around her, you just know that she's not going to have much to do the rest of the episode (for better or worse). Cyrus isn't terrible, and she has appeal to a younger demographic that you can't begrudge SNL for pursuing, but that results in a lackluster season premiere like this.
The MVP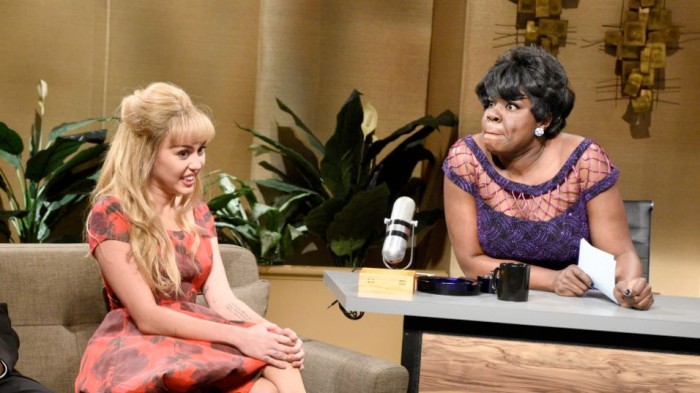 Leslie Jones – The sketches featuring Jones were all over the map, but she was the best part of the worst ones, and helped sell one of the best of the night. Jones has this fearless delivery and bold energy that mostly works in small doses, and in something like Saturday Night Live, that's perfect for three or four minutes sketches. Can we just get a sketch where she and Kenan Thompson just yell things at each other? It doesn't matter what they're yelling, that would just be perfect.
The Final Word
Returning from summer is always difficult for Saturday Night Live. The cast, crew and writers are getting back into the grueling swing of things by putting together the show lightning fast, and it takes a few episodes for everyone to hit their stride again. Hopefully it won't take as long as the past couple seasons since there's only one new cast member as opposed to half a dozen new faces this time.
Don't let this serve as an example of the usual, misguided argument that SNL isn't funny anymore, because the nature of this show means that there are ups and downs all the time. The reason everyone always says the previous cast was better is because all we're ever reminded of are the good sketches that have become iconic. But every single season of Saturday Night Live has just as many bad sketches as the next, but we've just forgotten about them because they don't get played during clip shows. That's what makes this show so fun to witness as it evolves and changes with society and comedy.
Here's hoping things are a little more solid when Amy Schumer heads to Studio 8H for her hosting debut on October 10th.