'Transformers' Sequels Planned For The Next 10 Years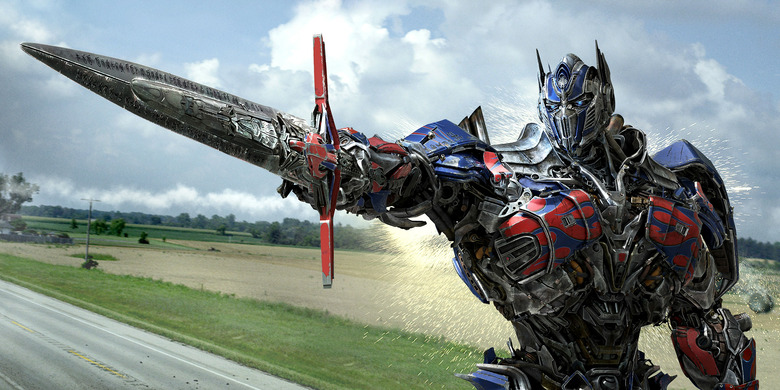 We already know that Transformers 5 is in the works at Paramount Pictures, and Michael Bay is in early talks to come back and direct yet again, though the filmmaker himself said they're still working out specifics and nothing is official yet. Yet again it has also been said that this will be the last Transformers movie Bay will direct, but that doesn't mean the franchise won't continue after that.
In fact, Hasbro executive vice president and chief content officer Stephen Davis recently partook in the MIP Junior Conference and revealed that the writers room that was assembled over the summer for the Transformers franchise has resulted in a plan for a total of four live-action sequels, which means we'll get Transformers sequels rolling out for the next 10 years.
The news comes from Transformer World, straight from a video from the conference where Davis said:
"We decided we wanted to plot out the next 10 years of the Transformers franchise, and so we got together in a room over a three month period of time. Nine of some of the most creative writers I have ever worked with, shepherded by Akiva Goldsman, who many of you may know won an Academy Award for 'A Beautiful Mind' and written a bunch of really great movies, they plotted out the next 10 years of Transformers...Transformers 5 is on the way. And 6 and 7 and 8."
There's a chance that his continuing count isn't accurately indicative of four more movies, but if each movie takes about two and a half years to make, that would fill that 10-year period pretty easily. We're not sure if that includes the planned animated prequel that takes place on Cybertron, so we might end up getting a total of five Transformers movies over the next 10 years.
If you haven't kept up with the news on the future of Transformers, the writers who were said to be part of this writers room were Zak Penn (Last Action Hero, The Avengers), Jeff Pinker (Lost), Art Marcum & Matt Holloway (Iron Man), Robert Kirkman (The Walking Dead), Christina Hodson (The Fugitive remake), Lindsey Beer (Short Circuit remake), Andrew Barrer & Gabriel Ferrari (Ant-Man), Ken Nolan (Black Hawk Down), Steven S. DeKnight (Netflix's Daredevil) and Geneva Robertson-Dworet.
However, Davis mentions nine writers, and you'll see there's 12 names were announced as part of the writers room. So maybe there were three writers who didn't work out for the studio or just weren't part of the overarching plan for the next 10 years. We're not entirely sure.
But you can be sure that Paramount isn't letting the Transformers franchise die anytime soon, and we'll see plenty more robots in disguise, even with Michael Bay ends up only directing one more movie in the series. And while producer Lorenzo DiBonaventura has nixed the idea of blending Hasbro's Transformers and G.I. Joe franchises, which has already been done in comic book form, that's something I wouldn't mind seeing sometime down the road.
As for Transformers 5, Mark Wahlberg will be back in a lead role, and story details have pegged Optimus Prime as going to space to find his creators and confront them about their plan to take the Autobot as a prisoner. The sequel is expected to arrive sometime in 2017, but no specific date has been pegged yet, so stay tuned.