LOL: Matt Damon Recreates Most Of His Film Career In Just Over 8 Minutes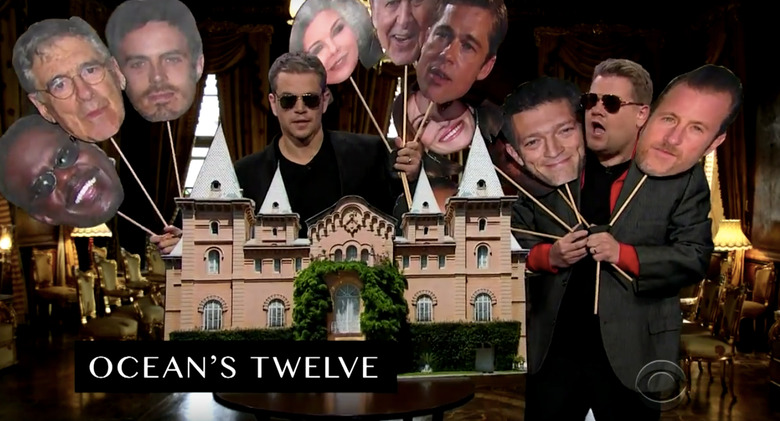 When British comedian and actor James Corden took the stage at The Late Late Show for the first time earlier this year, he had some help from American treasure Tom Hanks. The two teamed up to recreate the Oscar winner's entire film career in less than seven minutes, and Arnold Schwarzenegger did the same thing in just six minutes a couple months later.
Well, Matt Damon has been making the publicity rounds for The Martian hitting theaters this weekend, and he decided to have some fun on The Late Late Show by reliving all the Matt Damon movie roles we know and love (and some we don't) in about eight minutes.
Here's the video from The Late Late Show with James Corden:
There's a part of me that wishes every actor would do this when they stop by The Late Late Show, but that would probably make the novelty wear off pretty quickly. So it's probably best to save it for when an A-list star like Matt Damon stops by.
At first I was going to nitpick about the inclusion of Vincent Cassel when Damon and Corden recreated Ocean's Eleven, but since they ended up just having those faces on hand so they could easily to all three movies in Steven Soderbergh's heist franchise, I guess we can let it go. However, I'm pretty sure Eddie Izzard deserved to have his face on a stick for that sequence.
The transition between The Legend of Bagger Vance and The Departed is pretty great, and Corden seems to have a good grasp on a Jude Law impression that he really needs to use more often somehow. And it wouldn't be a timely visit without a shameless plug for The Martian as well.
However, I must say that I'm a little disappointed, because this video misses quite a few movies from Matt Damon's career. You won't find Interstellar, which wouldn't have been hard to couple with The Martian, or The Monuments Men, which could have come right after Saving Private Ryan. And there's also The Good Shepherd, All the Pretty Horses, Titan A.E., Dogma and of course Jay & Silent Bob Strike Back and EuroTrip.
I suppose I can't slight the show for avoiding some of his less celebrated and nearly forgotten film roles, but did anyone else completely forget about Damon's role in Happy Feet Two until this video reminded us? Anyway, good show, Matt Damon.